Business has boomed for glider vehicle assemblers since 2007.
Companies such as Fitzgerald Glider Kits, Harrison Truck Centers and Ervin's Equipment have offered small fleets and owner-operators new trucks equipped with older, rebuilt engines that don't use exhaust gas recirculation or require diesel exhaust fluid.
Federal regulations taking effect Dec. 27 restrict that market by allowing only much smaller sales after 2017. The expansive emissions standards finalized in October effectively close the loophole that allowed glider kit sales to flourish. That leaves glider kit makers scrambling to alter their operations or shuttering their glider business altogether.
That's the case with Ervin's. Perry Propst, head of marketing for Ervin's, says the company closed its glider vehicle sales business in January, citing emissions regulations and market conditions.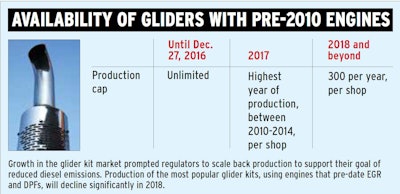 Harrison's did not respond to inquiries about the new standards.
Current standards require gliders to meet only the regulations in place the year the engine block was cast. Fitzgerald, the country's largest glider vehicle supplier, uses almost exclusively 2003 model-year and older Detroit Diesel Series 60 engines. Fitzgerald remanufactures the engines and pairs them with Eaton-Fuller transmissions purchased directly from Eaton's reman division.
With no further modification, those engines would not satisfy the new Phase 2 emissions standards, known as Greenhouse Gas Emissions and Fuel Efficiency Standards for Heavy-Duty Engines and Vehicles – Phase 2. They call for engines installed in glider vehicles to meet 2010 standards for emissions of greenhouse gases, particulate matter and nitrous oxide (NOx). If Fitzgerald is able to upgrade its older engines for 2010 compliance, buyers could have concerns about reliability if the system is relatively untested.
Another approach to Phase 2 is to use proven 2010 and later engines that cost less than new engines and forgo the selling point of having no EGR and DEF technology. Cummins, for example, offers remanufactured post-2010 engines that still use EGR and DEF.
RELATED: Will GOP control kill Phase 2 standards? Maybe…
Next year, glider vehicle makers can build as many gliders with pre-2010 emissions as their highest year of production between 2010 and 2014, per the Phase 2 rule's allowance. After that, glider vehicle makers can build up to 300 trucks a year that do not comply with Phase 2 standards.
The 300-truck allowance also applies to truckers who want to build their own glider vehicles at home with kits purchased directly from truck manufacturers such as Peterbilt and Freightliner. That means operators are free to install, by themselves or through a shop that hasn't exceeded the 300-truck allowance, a pre-2010 engine into a glider kit.
While such trucks are compliant under Phase 2 standards, most of them still are forbidden from operating in California. The state currently requires all trucks operating within its borders to comply with EPA 2007 standards. By 2023, California will require all trucks operating there to meet EPA 2010 standards.
Fitzgerald has been mum on the specifics of its plans. Spokesperson Stu McLaughin says the company has a dozen engineers on staff, working on compliance, lightweighting and other aspects of the Detroit Series 60 engines.
"We're confident we'll be able to test our products and meet the new standards," he says. "Our plans for production are still in accordance with what we feel works for us and what sales trends in the past couple of years dictate."
The rule "clearly states they definitely anticipate kits to be built for years and years," McLaughin says. "They just want them to be compliant. Gliders represent such a small percentage of truck sales, but within that small market, it would be a crushing blow to say 'no kits.' "
Fitzgerald tractors, new except for their rebuilt engines and remanufactured transmissions, run about $10,000 less than comparable new tractors sold by dealers. McLaughin says the company is unsure how the new standards will affect pricing, but there likely will be "updates" to current pricing.
Phase 2 sets new hurdles for engines, tractors and trailers, some going into effect as early as next year. New standards for engines begin in 2018. They gradually tighten until 2027, when engines will be required to achieve 5 to 6 percent greater fuel economy when compared to 2017 benchmarks.
The ballooning growth of glider kit production – from about 1,000 trucks sold in 2007 to about 10,000 units last year – caught the eye of regulators with the U.S. Environmental Protection Agency and the U.S. Department of Transportation.
"The market was figuring out ways to circumvent cleaner, newer emissions-standards engines," says Matt Spears, head of EPA's heavy-duty on-road sector. "In the Phase 2 rule, we said, yeah, this does appear to be a loophole. So that's why we proposed to do something about it – because of the disproportionately large impact on particulate matter and NOx emissions that these relatively small sales numbers had."
EPA estimates annual greenhouse gas emissions of 10,000 kits to be equivalent to 200,000 2010-compliant engines – nearly the entirety of new truck sales projected for next year. Likewise, 10,000 kits emit about as much NOx as 100,000 new trucks, EPA says.
The American Trucking Associations doesn't take a stance on the changes to the glider kit standards, says Glen Kedzie, ATA vice president of energy and environmental counsel. But Kedzie says the trade group understands the need for the change to glider emissions regulations.
"They're just setting out to clean up the emissions from the glider kit industry," he says. "If we kept going down the pathway of allowing 10,000 pre-2003 engines to be put out there, the industry's emissions are going to be exponentially steered toward being on the shoulders of glider kits."