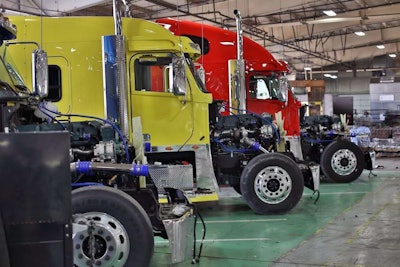 Three years after emissions regulations took effect in January 2018 that severely restricted production of Class 8 glider kit trucks, there's seemingly no options for owner-operators or small fleets to purchase a new glider kit. That includes buying straight from truck manufacturers or dealers for truckers who want to build and assemble their own glider truck.
Not only did the Phase II tractor-trailer emissions regulations enacted in 2016 hamper production of builder-sellers like Fitzgerald, Ervin's and Harrison's, the regs in recent years spurred major truck makers to pull their glider body sales entirely.
Peterbilt and Freightliner, two of the more popular glider options from kit assemblers, confirmed this week they no longer sell gliders at all -- even to individuals, let alone to companies who were mass assembling those kits to then sell.
"After 50-plus years of building gliders, Daimler Trucks North America made the decision to exit the business segment and built our final gliders" in 2020, a company spokesperson said. That includes both Freightliner and Western Star gliders.
Peterbilt, in statement to Overdrive, said it discontinued glider sales in 2019. Likewise, Mack, Volvo and Kenworth also said they no longer sell glider kits, even to end consumers. Navistar did not by press time respond to queries as to whether they still sell gliders.
The end of the glider market comes after a rollercoaster ride over the past decade for glider kit builders and regulations surrounding them.
Completed glider builds -- those equipped with refurbished engines and transmissions in new truck bodies and chassis -- became popular among owner-operators and small fleets as an alternative to buying new in the wake of tightening federal emissions regulations that took effect in 2008 and 2011. Those restrictions caused engine makers to add new emissions-cutting tech, driving up costs of new trucks.
The glider market grew from a few hundred sales a year in 2010 to upwards of 10,000 as recently as 2017. Gliders sported pre-emissions-regs engines -- no exhaust gas recirculation or selective catalytic reduction components and, thus, no need for DEF. With simpler technology and refurbished engines, the products were much cheaper than new trucks with new engines, making them attractive buys for small-business truckers.
Also, assemblers like Fitzgerald Glider Kits, the largest kit builder, and others offered the trucks as nearly custom builds, selling completed gliders in a long list of colors and with custom painted engines, among other custom add-ons.
But those kit sales came under scrutiny by the U.S. Environmental Protection Agency, which said gliders presented a staggeringly outsized portion of tailpipe emissions among new trucks sold each year.
In a 2016 interview with Overdrive, Matt Spears, then head of EPA's heavy-duty on-road sector, said emissions of greenhouse gases and particulate matter from 10,000 glider kits equalled the emissions output of about 200,000 new trucks — nearly a year's worth of total new truck sales. "In the Phase II rule, we said, yeah, this does appear to be a loophole. So that's why we proposed to do something about it – because of the disproportionately large impact on particulate matter and NOx emissions that these relatively small sales numbers had," he said then.
Fitzgerald and Ervin's, another popular builder, declined to be interviewed for this story. Ervin's did acknowledge in a statement that the Phase II regs forced the company out of the glider business.
Fitzgerald, which once had glider kit sales of hundreds of millions of dollars a year, fought the regulations from their onset. They appeared headed toward success when President Trump's EPA sought to exempt gliders from Phase II regulations and allow companies like Fitzgerald to continue their operations. However, changes in leadership at EPA, as well as court decisions, ultimately derailed those efforts.
You can read more about the saga that unfolded between glider kit builders, EPA and government watchdogs in this story from 2019.