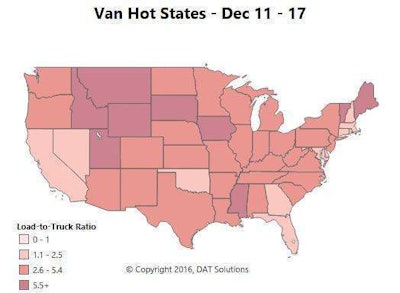 Van rates declined in 68 of the top 100 lanes last week on DAT Load Boards, but December is still shaping up to be the peak month for van rates in 2016. And there could be yet another rebound before the year is up. Two factors are in play:
1) Shippers want to move freight before the end of the year to close their books on a high note; and
2) As many of you no doubt know, there are lots of owner-operator vacations either under way or coming up between Christmas and New Year's Day, as among our fellow citizens. That means more demand, and less capacity, for those of you working the spot market through the holiday. Truckers who want to work should be able to find plenty of loads in the next ten days, and rates could be surprisingly good.
Hot markets: More loads moved out of Chicago last week, and there were fewer loads leaving Columbus, but both markets saw average-rate increases on the most important outbound lanes. Los Angeles also moved more loads, but rates declined there, compared to the previous week. More loads left Memphis, a big e-commerce and parcel hub, but rate trends there were mixed. Memphis to Dallas lost 6 cents per mile, and the lane to Chicago fell 3 cents, but Memphis to Atlanta gained 9 cents.
Not so hot: Denver and Seattle lost traction last week after those markets' two- or three-week surge, and the average outbound rate dropped about 10 cents per mile for both markets. Rates there are still higher than they were in November, but they're getting that old "backhaul" feeling again. Make your money going in.