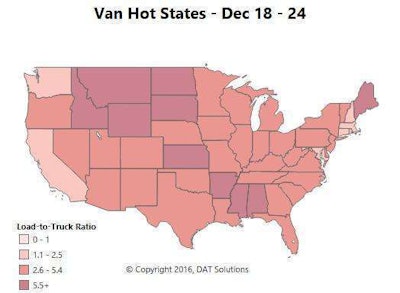 Hauls were shorter, and rates were higher, for dry vans vans in the final week before Christmas. The focal point of a lot of activity was on the Midwest and along the East Coast, where freight had to arrive at its final destination before the end of the week. Expect rates to remain elevated through the end of this week, too, as many shippers are eager to move freight out the door before they close the books on 2016.
Hot markets: Atlanta was the top market for load posts last week, and the rates were up, too. Van loads from Atlanta to Philadelphia got a 19-cent increase per mile on average, to $2.46. An adjacent lane, from Charlotte to Buffalo, also got a boost, up 15 cents to $2.21 per mile. Chicago to Denver and Buffalo to Allentown also stood out with double-digit rate increases, compared to the previous week.
Not so hot: There were fewer freight moves out West, and outbound rates lost traction from Seattle again last week. The lane from Seattle to Salt Lake City fell 15 cents, to $1.76 per mile. The rate from Portland to Stockton, Calif., dropped similarly, down 14 cents to $1.52 per mile.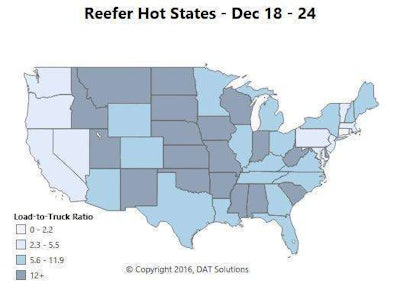 Reefer overview: Reefer volumes declined slightly, but rates got a boost from the urgency of last-minute deliveries before Christmas Day. The national average rate for reefers reached $1.96 per mile, higher than any monthly average since June.
Hot markets: There was a surge of off-season loads out of two produce markets in Florida due to local and imported vegetables and fruit, including citrus. The lane rate from Miami to Elizabeth, N.J., shot up 67 cents to $2.25 average per mile. Miami to Atlanta, a classic off-season "backhaul," got a 25-cent raise, to $1.43 per mile, and the lane rate from Lakeland, Fla., to Charlotte added 27 cents, to $1.55 per mile. Some of these rate increases are continuing past Christmas
Not so hot: The spotlight had been focused on Twin Falls, Idaho, since mid-November, but peak season ended by last week. Volume also declined out of Denver. Two lanes out of the Upper Midwest also lost ground last week.