Following an "18-month malaise" in freight sparked by the collapse in oil prices at the end of 2014, says DAT analyst Mark Montague, the freight recession is now officially over. Freight volume and rates have been generally reviving since May of 2016, but year-over-year comparisons didn't turn "positive until August," he adds. And "instead of tapering off after October, as retail freight did in years past, a boom market emerged for truckload transportation in November and December.
E-commerce was a major source of spot market freight for what is usually a quiet season, boosting truckload rates to a surprise peak in the last two months of the year," illustrated in the chart below showing national average rates up in most segments, if slightly, in December compared to the same month in 2015.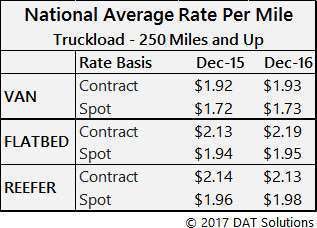 Optimism for the new year is warranted, Montague added, particularly if the economy strengthens in response to federal initiatives from a new administration. Montague laid out these things to look out for:
Anticipated higher levels of infrastructure spending
Corporate investment, with lower tax rates and repatriation of foreign earnings
Political and economic measures that relax regulation and stimulate growth
Read more of Montague's analysis via this link.
And as for the spot market at this very moment, it was a week of mixed activity for all three segments in a variety of locales, DAT's Ken Harper says. While it's the slow season for flatbeds, there's been "significant activity in the energy sectors of Texas and New Mexico." Flatbed freight movement along the Dallas to El Paso, Texas, lane is one route showing a boost with drilling activity in the vicinity of the endpoint. The lane was paying an average of $2.16/mile last week for flats. "You could speculate and say that natural gas was the driver because of the fuel needed for the lower than normal temperatures in California and the Northwest," Harper adds, "but we don't have any hard data on that."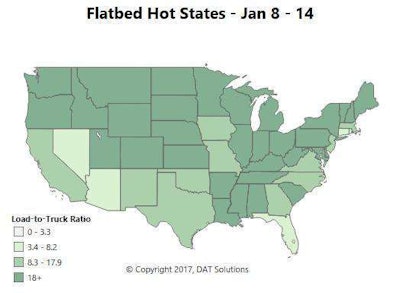 It might be spring before we start to see big improvements in a large number of places for flats.
Hot markets: Three scattered markets have seen improved rates: Phoenix, Dallas, and Baltimore. These aren't typically strong flatbed markets, so it's an interesting trend. Dallas does ship to the Permian Basin, though, which has seen some drilling recently, as noted above. That area includes the El Paso market.
Not so hot: Los Angeles is going through some seasonal slowness right now, which isn't a surprise. The weak rates out East are less typical. The Southeast has been busy in areas, but less robust overall. Recent bad weather could've kept freight from moving, and flatbed loads out of Raleigh, N.C.; Roanoke, Va.; and Birmingham, Ala., typically paid less last week.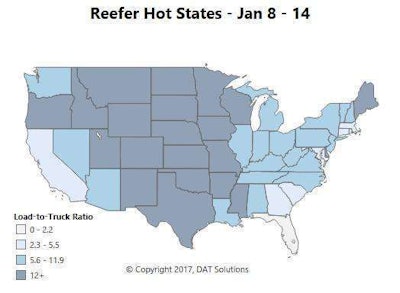 While reefer rates took a bit of a hit in the first week of the year, prices started to level out last week with the rise in volume throughout much of the country.
Hot markets: Most of the big rate increases were out West, and two of them were out of Denver. The lane to Salt Lake City was up to $1.80 per mile on average, while reefer loads heading from Denver to Sacramento, Calif., paid 21 cents better. Again, these are likely weather-related. Potato-producing markets were also up, and the lane from Twin Falls, Idaho, to Los Angeles surged to $2.08 per mile.
Not so hot: Florida volumes were mixed. Load counts were up in the Miami market, but volumes were down in the central part of the state. Both the lanes from Miami to Boston and Lakeland, Fla., to Charlotte, N.C., were down an average of more than 30 cents per mile.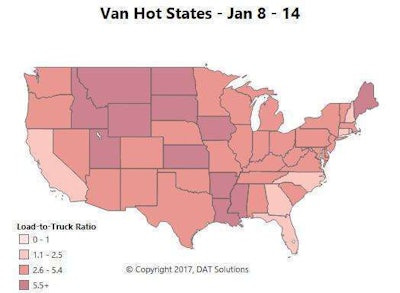 Last week was the first full work week of 2017 for a lot of people. As a result, there were a lot more available vans on the board. The extra capacity pushed load-to-truck ratios lower, and rates dipped a bit in most major markets. Load counts, however, have been trending up, though, so rates should swing back the other way soon.
Hot markets: Outbound rates in Texas and the Midwest held up better than the rest of the country. Rates out of Houston are 2 percent higher than a month ago. Weather was a factor in many places. Some shipments were either postponed or trapped due to road closures out West. Closures on I-80 likely contributed to the 32-cent spike on the lane from Denver to Stockton, Calif. That lane paid an average of $1.80 per mile, which is not typical for that lane. Prices were down quite a bit on the return trip, though.
Not so hot: Los Angeles load volumes grew slower than other markets. Heavy rains have probably hurt California in the short term, but it could pay dividends come spring produce season. Atlanta also lost traction last week, and the average rate on the lane to Philadelphia was down 26 cents to $1.95 per mile.