After DAT analyst Mark Montague proclaimed the "end of the freight recession," part of last week's update on spot market trends in all segments, the "news this week is we're seeing a typical January slowdown," says DAT's Ken Harper, though the normal seasonal effect means "we're coming down from higher volumes of freight and rates. Compared to December 2016, the strongest month of the year, we're sliding, but compared to last year at this time, we're up."
Very important for reefers, Harper quips: "The beer coolers for the Super Bowl appear to be well stocked: reefer rates from Denver — Beertropolis — to Houston fell to $1.86/mile.
Reefer rates also fell as a national average, despite more available loads. A slowdown in available contract freight, Harper speculate, may well have eventuated with more trucks from larger carriers working the spot market in both reefer and dry segments, given a marked influx of more truck posts.
Hot markets: There was a strong surge in reefer loads out of Dallas and McAllen, Texas. California was also moving more after a week of difficult weather, but there were enough trucks to accommodate the increase in demand. The exception was Sacramento, which was the only major reefer market with higher rates last week.
Not so hot: – In addition to that lane out of Beertropolis, Once again, the Midwest and Northeast had declining rates in general. The lane from Chicago to Philadelphia paid 25 cents less last week with an average rate of $2.68 per mile.
Atlanta to Philadelphia has also been losing traction as of late, likewise the return, which is ripe for splitting into two segments. Roanoke as a midway drop, pick point offers opportunity to, with the addition of about 50 miles, boost a $3,000 rountrip to close to $3,700:

Van freight volumes were down significantly last week, while truck posts on DAT Load Boards were up 14 percent, Harper notes, referencing the previously mentioned contract market situation, which could have been at play.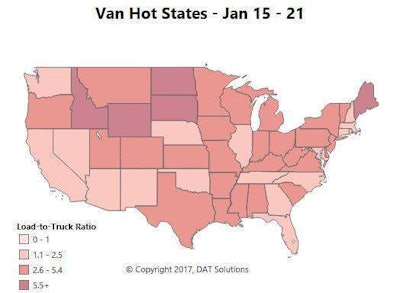 Hot markets: Outbound rates in Texas have held up better than most places, and there's more freight coming out of Houston. Otherwise, prices were down in major van markets. A couple lanes rebounded after some large drops in previous week. Chicago to Buffalo paid 12 cents better, with an average rate of $2.41 per mile. Rates on the lane from Buffalo to Charlotte improved 9 cents to $1.75 per mile. Recent severe storms in the Southeast could affect rates this week.
Not so hot: As with reefer, the Midwest and Northeast are slumping now that the holiday retail season is in the rear-view. The same was true in much of the West Coast, and outbound rates are down 7 percent for the month out of Los Angeles. Most high-traffic lanes paid less last week.