The biggest news with this weekly spot market update, covering last week's Christmas-New Year interregnum for a sizable chunk of the American economy, "is that van and reefer rates remained strong, perhaps even stronger" than prior weeks, noted DAT's Ken Harper. This resulted from a "combination of online Christmas buying, carriers taking time off during the holidays (pushing up the load-to-truck ratio), and shippers clearing out their year-end inventory."
In the van and reefer load-to-truck maps this week, Harper adds, "you'll see that load-to-truck ratios are high not only for low-volume freight states" like Wyoming, Montana and the Dakotas but also "in the heartlands and the Southeast, high-volume freight states."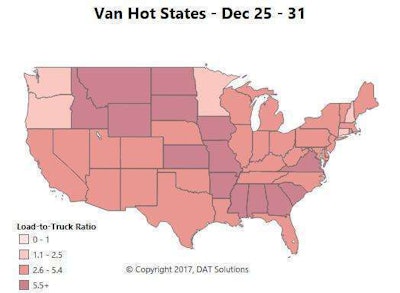 Hot van markets: Allentown, Pa., was the big surprise last week. There were actually more van loads there post-Christmas than pre-Christmas, and the average outbound rate rose 4 percent. Columbus, Ohio; Atlanta; and Philadelphia all also showed higher outbound average rates, another sign of strong retail trade. Things also started to pick up in Texas and out West. The lane from Los Angeles to Denver paid 23 cents better at an average of $2.53 per mile.
Not so hot: The news wasn't great everywhere. Outbound rates tumbled in Buffalo and Denver. Stronger trends out of Allentown meant the lane from Buffalo to Allentown was down. The average rate on that lane lost 28 cents but is still high at $2.86 per mile. So-called "backhaul" lanes were down in general. For example, Denver to L.A. fell 21 cents, but the roundtrip was still up thanks to the better rate out of Los Angeles. Van loads leaving Portland, Ore., for Stockton, Calif., also paid 20 cents less on average at $1.32 per mile.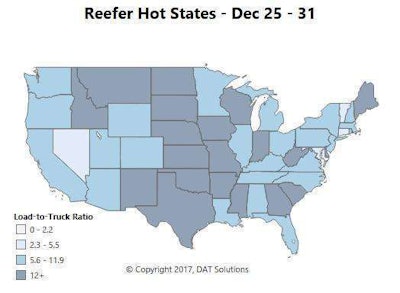 Reefers rebounded in a big way to close the year. Shipments of southern crops coincided with more fall crops moving out of storage. Couple that with the same urgency we saw with vans to move loads before the end of the year, and you get a national average that matched the 2016 peak in June at $1.96 per mile.
Hot reefer markets: Rates were up in almost every major reefer market, and Mexican produce led to soaring load counts in Nogales, Ariz., and McAllen, Texas. Extra-cold weather might've played a role on the lane from Grand Rapids, Mich., to Cleveland, which surged to a whopping $3.63 per mile as an average. More late shipments out of Chicago pushed rates on up on outbound lanes to Kansas City and to Denver. That Chicago-to-Denver lane was up 65 cents at an average of $2.96 per mile.
Not so hot: Compared to everywhere else, Northern California and Southern Idaho were relatively quiet price-wise. A few lanes slipped post-Christmas, though. Stronger pricing out of Florida led to a lower rate on the lane from Philadelphia to Miami (down 19 cents to $1.62 per mile), and one outbound Florida lane has already come tumbling back down. Miami to Northern New Jersey lost 23 cents.
There are some good reefer rates to be had in Texas at the moment, particularly between Dallas and McAllen. The roundtrip gives you an average of $2.25 per loaded mile, or just over $2,275 for the 1,000-mile roundtrip. If you can do it in two days, go for it. If you get delayed on the road or at the dock, you can make more money by extending the return trip from McAllen with a load to Houston and a second back to Dallas. You'll boost your rate over the entire trip to $2.42 per loaded mile, and add just 80 miles and an extra pick and drop. If it works better in your schedule, it's an option. Examine the details in the chart below.