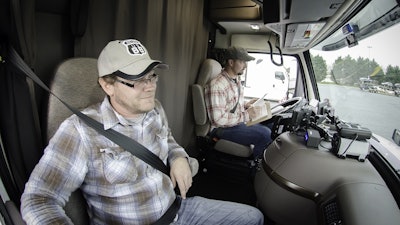 A January 20 order issued by President Trump to federal agencies directing them to halt publication of new and pending regulations could affect a freshly published rule setting training standards for new truck drivers.
Trump's memo, distributed to staffers by Trump's Chief of Staff Reince Priebus, orders executive agencies to "temporarily postpone" the effective date of rules published in the Federal Register but not yet effective. The Federal Motor Carrier Safety Administration's Entry-Level Driver Training rule was published December 8, and the rule was slated to take effect Feb. 6, 2017 — seemingly covered by the January 20 memo.
Trump's order tells agencies like FMCSA to postpone the effective date of such rules for 60 days from the date of the memo so that the new administration can review them and alter them if deemed necessary.
FMCSA's driver training standards rule establishes a classroom curriculum for those seeking a CDL, as well as a requirement for behind-the-wheel proficiency. It also establishes a registry of certified trainers and requires entry-level drivers to receive training from an FMCSA-approved trainer.
The rule provides a three-year implementation window and applies to truckers receiving their CDL after Feb. 7, 2020.
The rule in its proposed form, issued earlier last year, garnered widespread industry support. The December-published final rule, however, lost support among OOIDA and safety groups for its lack of required behind-the-wheel time. The proposed rule called for a minimum of 30 hours of behind the wheel training. The final rule does not, requiring trainers to train new truckers to proficiency, as deemed by the trainer.
An FMCSA spokesperson earlier this week told Overdrive the memo was "under assessment."