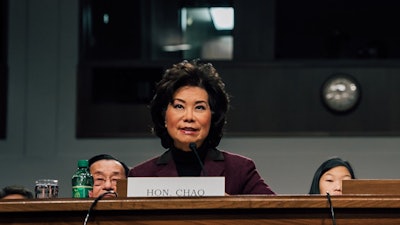 The Senate confirmed Tuesday Elaine Chao as the next Secretary of Transportation. With broad bipartisan support, the Senate voted 93-6 to confirm President Trump's nominee to head the Department of Transportation.
Chao told a Senate panel earlier this month her three main goals as head of the U.S. DOT will be to bolster infrastructure funding, bridge the divide over rural and urban transportation needs and find better balance between federal regulations and the concerns of businesses regulated by the DOT.
During her confirmation hearing Jan. 11, Chao told the Senate's Commerce, Science and Transportation Committee that she also intends to create an environment in which new technologies like autonomous vehicles and drones can grow while managing any job displacements such technologies would create.
Chao's no stranger to government roles. She was second in command in the DOT under George H.W. Bush and held the Secretary of Labor post for eight years under George W. Bush.
Her family immigrated to New York City from Taiwan when she was a young child. She graduated from Harvard in 1979 with an MBA. She's also held other prominent roles, such as those of vice president of Bank of America, president and CEO of the United Way and president and CEO of the Peace Corps, among others.
She's also married to Senate Majority Leader Mitch McConnell.