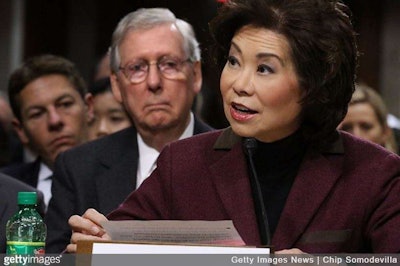 Elaine Chao is in line for what could be a multi-million-dollar payout from Wells Fargo should she be confirmed as the U.S. Department of Transportation secretary, according to her financial disclosure form filed with the U.S. Senate and reports of her Wells Fargo stock's value.
Investigative reporting outlet The Intercept estimates Chao's total payout, staggered over five years, will be worth $1 million to $5 million. Part of the estimate's range reflects the unknown value of Wells Fargo stock at each payout. Chao's disclosure does not list how many shares of Wells Fargo she owns.
Chao writes in her disclosure statement she'll "receive a cash payout for my deferred stock compensation" upon her confirmation for the DOT gig. She'll receive 48 percent of her stock compensation in July, according to her disclosure form. She'll receive another 29 percent in March 2018, 15 percent in March 2019 and 4 percent each in March 2020 and March 2021, according to her statement.
Chao was selected by President Trump in December to head the DOT. She's been favorably recommended by the Senate's Commerce, Science and Transportation committee, and she's scheduled to appear before the full Senate next week for a hearing. The Senate is expected to confirm Chao with little opposition.
Chao's no stranger to D.C. She served as labor secretary under President George W. Bush. She also was second in command at DOT under President George H.W. Bush.
She's also held other major jobs, including vice president of Bank of America, president and CEO of the United Way and president and CEO of the Peace Corps. She is on the Wells Fargo board of directors and holds advisory roles at Vulcan Materials, Ingersoll Rand, News Corporation, Ford's Theatre and the Hudson Institute, according to her disclosure statement.
Chao says she will resign from all positions if confirmed as the DOT Secretary.