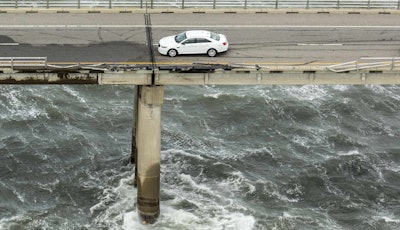 UPDATE: Monday, Feb. 13: According to a new report from WAVY-TV, police have ruled the accident Thursday, Feb. 9, on the Chesapeake Bay Bridge-Tunnel that claimed the life of a 47-year-old truck driver was the result of driver error.
Police say trucker Joseph Chen had just passed another tractor-trailer on the bridge, and as he came back into the right lane, he drove over the curb and went airborne. Authorities say they are hoping to gather more information from the truck's black box if it can be found and recovered.
Original story follows:
A truck driver died Thursday afternoon when his truck went over the side of the Chesapeake Bay Bridge-Tunnel (CBBT) into the bay, according to a report by Hampton Roads, Va., TV station WAVY-TV.
The driver, identified as 47-year-old Joseph Chen of Greenville, N.C., died while being transported to the hospital, the report states.
WAVY-TV says the truck went into the water on the southbound side of the bridge-tunnel at approximately 12:30 pm. Thursday. The Navy was called in and was able to pull the driver out of the Bay with a helicopter, according to the report. Meteorologists with the station say the water temperature was 45 degrees with five- to seven-foot waves when the accident occurred.
The station reports that at the time of the accident, the bridge was under a Level 1 wind restriction, which does not restrict tractor-trailers from crossing. CBBT officials later issued a Level 2 wind restriction, which requires trucks to be carrying at least 30,000 pounds of cargo in addition to the weight of the truck.
According to the news station, this is the third incident in the last three years in which a truck went over the side of the CBBT into the water. In the most recent incident, in January 2016, the driver was rescued and survived.
FULL STORY: Driver dies after tractor-trailer goes over the side of the Chesapeake Bay Bridge-Tunnel. https://t.co/Y7KgIehD5p @WAVY_News #va pic.twitter.com/Lh6LzsZKaF

— Joe Fisher (@JoeFisherTV) February 10, 2017
Driver whose tractor-trailer drove off Chesapeake Bay Bridge-Tunnel identified as North Carolina man https://t.co/aksMXgvkHX pic.twitter.com/6Hzif5jNJk

— Daily Press (@Daily_Press) February 10, 2017