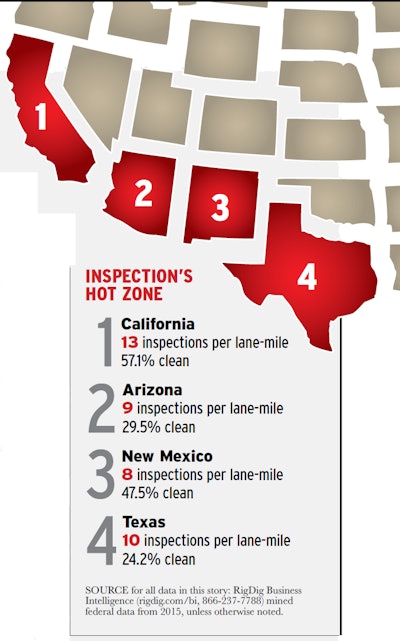 Overdrive and Senior Editor Todd Dills have been named finalists in the prestigious Jesse H. Neal business editorial awards program. This is the fourth straight year Overdrive and Dills have been named Neal finalists.
This year, Overdrive is a finalist in the Best Series and Best Editorial Use of Data categories for its continuing coverage of the DOT's Compliance, Safety, Accountability program and associated state-to-state inspection programs. Dills is a finalist in the Best Range of Work category.
The articles about CSA are based on proprietary research from RigDig Business Intelligence, a division of Randall-Reilly, publisher of Overdrive.
As in years past, Dills penned all of the 2016 entries in the CSA's Data Trail series. Now in its fifth year, the series examines the DOT carrier scoring program and its myriad of associated issues, particularly those that reach into owner-operator businesses. After its first year, the series won the Grand Neal overall best-of award during the 2014 program. Subsequent years' work have drawn a Best Series category win and contributed to Dills' two Neals in the individual Best Range of Work category and 2016's Best Data Journalist category.
Dills' wide range of work — news stories, regular blog entries, in-depth features, podcasts and video — earned him a finalist spot in the Best Range of Work category again this year.
Connectiv, a business publishing and data association, will announce all Neal winners on March 31 in New York City.