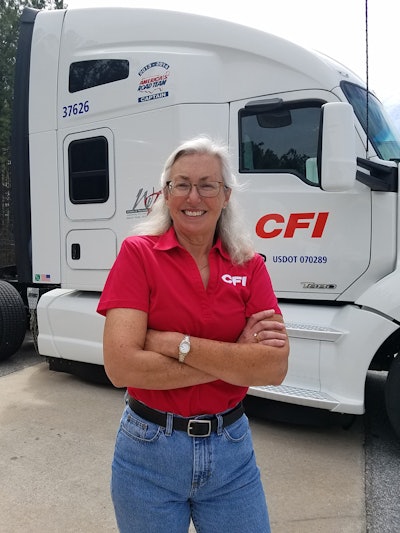 Stephanie Klang and Fred, her 17-year-old cat, travel the country for CFI. This America's Road Team Captain, who served a 2013-2014 term, has been trucking for 37 years. Her early days were spent driving team, but she's been solo for nearly 30 years and 3 million miles with CFI.
Klang is known for her professional driving skills but also for her sense of humor and way of making people feel comfortable. "I've learned over the years that a lot of drivers look and act angry. I tell them, 'Sweet pea, if you don't like your life, change it.' I say it with a laugh and usually, I can get them to lighten up," Klang says.
This Overdrive's Most Beautiful top 10 contender enjoys being a role model for women and girls interested in a trucking career. She's working with a Girl Scout Troop, speaks to high school classes, appears on safety panels and handles CFI's ride-along requests for media members and elected officials. She says she tells the young girls to choose their own happiness.
"Make it your world. Go out and have your adventures first and then make sure you can have enough choices to create a happy life."
She's often asked how she keeps up her beauty routine while on the road for weeks at a time. One of her tricks of the trade is to give herself a pedicure in the cab.
"I heat up the hot water in my coffee pot and then add the water and moisturizer to a little tub. I soak my feet and then give myself a little pedicure," she says with a laugh.
For fun, she loves to read mystery novels, listen to NPR and says she's a science geek.
She had a hardscrabble life growing up, and was determined to find a career through which she could become financially secure. "Once you can take care of yourself financially, that's the true definition of independence for women. It's my whole world and I make the most of it," she says.
[gthr size="5″][/gthr]
This is the seventh of 10 stories about this year's finalists. Check back throughout March for the rest. The winner will be announced in April and presented at The Great American Trucking Show in Dallas, Aug. 24-26.