A little "bitter fruit" in the spot market update this week, notes Ken Harper of DAT. "We're still seeing good volumes on freight, especially on the Top 100 van lanes, but unfortunately the capacity is there as well, so rates haven't lifted."
Early warm temperatures, followed by hard freezes, in the Southeast, California's harvests late because of the rains — all has hampered produce moves out of key areas, too. "We have reefers looking for and hauling van freight and this extra capacity is pulling down rates," Harper adds. "Meanwhile, Trump wants to fire up more coal plants. Except you can't eat from those kinds of plants." For reefer haulers, bitter fruit indeed. (Told you he was good for a laugh.)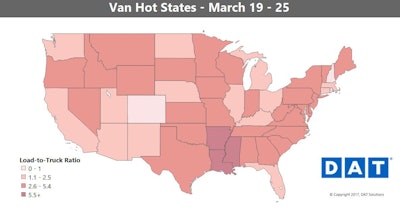 Van overview: Trends were mostly in a holding pattern last week. Volumes were up on the top 100 van lanes, but there was enough capacity to cover the extra loads in most areas. Falling fuel prices contributed to a 1 cent drop in the national average rate, which hit $1.63 per mile. Load counts have been climbing slowly in California. Once that becomes enough to pull the excess capacity westward, we should start to see rates improve.
Hot markets: Arkansas, Mississippi and Louisiana are the darkest states in the map above, meaning that there's less competition for van loads in those states, but Texas is still the top state for finding loads because of the higher volumes. Three Texas markets were in the top 10 for van load posts last week: Houston (No. 2), Dallas (No. 4) and Laredo (No. 7).
Not so hot: Only a couple van lanes had big price drops. The lanes from Philadelphia to Boston and Buffalo, N.Y., to Allentown, Pa., both fell 12 cents per mile on average.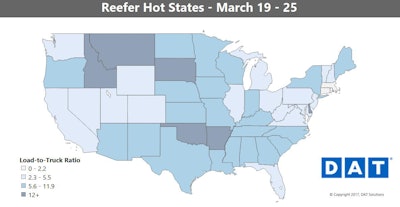 Reefer overview: Reefer freight was also pretty stagnant last week, and falling fuel surcharges also caused the national average reefer rate to dip a cent to $1.86 per mile. You have to look a month back to find the positive trends – volumes are up 14 percent on high-traffic lanes in the past month, though rates are up just 1.5 percent since late February. Florida is still quiet, but produce shipments should start there soon, which will help kick spring freight season into gear.
Hot markets: Colorado is by no means a Hot State in the map above, but outbound reefer rates in Denver rose in a way that we haven't seen since before the Super Bowl. We might be looking at a case of March Madness. This year's Final Four is in Glendale, Ariz., and the lane from Denver to the Phoenix market has paid an average of $1.77 per mile for the past seven days, which is well above the average reefer rate for that lane. Some beer coolers apparently needed filling before the big games.
Not so hot: We're still waiting for California to bounce back from the harvest delays caused by winter weather. There's also growing concern that recent late-season frost will hurt shipments out of parts of Georgia and the Carolinas, especially peaches and blueberries.