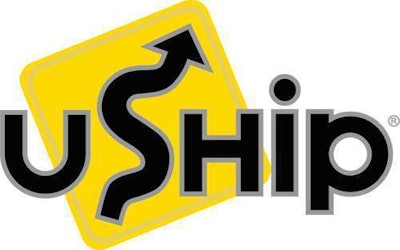 In all the hype around the "uberization" (or streamling/partial automation) of the truckload freight transaction and some companies' goal of bringing truckers and their shippers closer together, there's one outfit that's rather quietly continued to be an option for hotshot and other truckers to connect directly to consumers and some businesses with smaller freight to move. uShip, founded more than 10 years ago, has continued to grow in terms of its reach over many years now, and, in February, Mike Williams took hold of the reins as CEO.
The company was just off a new infusion of venture funding ($25 million worth) from European third-party logistics (3PL) firm D.B. Schenker. uShip's Pro freight-automation technology platform is the backbone of D.B.'s Drive4Schenker platform, through which as many as 5,000 loads a day will ultimately be matched within a network of more than 30,000 Schenker partner carriers — the platform launched a little more than two months ago.
In a press release accompanying the announcement of the funding round, Williams was quoted as such:
"Major players like D.B. Schenker are taking advantage of technology that will automate and digitize their operations, helping them maintain market leadership and evolve with demand. It's a thrilling time to be at the leading edge of this logistics transformation."
Williams told Overdrive during a subsequent interview that he was drawn to the position formerly held by Matt Chasen by what he sees as unprecedented opportunity for tech companies who would assist carriers, 3PLs and shippers in improving operational efficiency around the freight transaction. As intimated above, it's a much-hyped goal and reality that Overdrive has reported on at length, most recently in this March feature. Streamlining carriers, brokers and shippers' operational connections to "drive more value for your customers" is the goal, Williams says, "whether you're an owner-operator with one truck, or [a sizable 3PL like] D.B. Schenker."
For owner-operators and small fleets, the uShip Pro platform currently at work under Schenker's European freight operation could ultimately prove to be one that sees more action with U.S. brokers and 3PLs, Williams suggests, as more look to adopt technology to help manage their book of freight with partner carriers.
"We see that opportunity over the next several years," Williams says. In 2017, the company is looking particularly to attract more business shippers to its primary freight marketplace here and to "make it easier for businesses to leverage the marketplace" for their higher-value freight, he adds, increasing opportunity for owner-operators testing the waters there.
Meanwhile, over the years uShip's marketplace and its reverse-auction format, as previously reported, has been giving way to transactional modes with less friction (name- and raise-your-price options, for instance), and the company's also made strides with its LTL marketplace for shippers to book big-LTL service at instantly-bookable prices.
Over the next five years, Williams sees the freight ecosystem on the whole "getting more efficient. When carriers get more efficient filling their trucks, they can deliver great value for shippers." Online purchasing behavior by consumers will trend toward "more bulky items that can't be shipped in parcel packages," he adds. "As e-commerce trends toward bigger, bulkier goods, we're really trying to make [uShip's marketplace] an attractive option to the LTL and business shippers."