We caught up with Australian photographer/author Alice "Al" Mabin last week for a brief talk about her exceptional story of near-tragedy that turned into a new appreciation for the essential nature of trucking in all modern economies.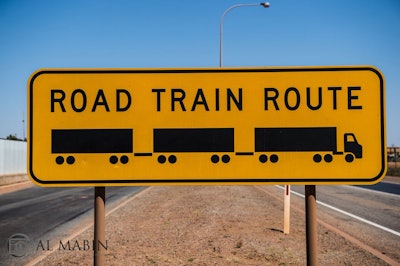 The most recent of Mabin's two books is "The Driver — Australia and New Zealand on the Back of a Truck," a series of photoessays detailing 102 different trucking entities, including the businesses of many owner-operators, operating today in Australia and New Zealand. It's all geared toward driving public appreciation of the humanity that makes up an industry essential to the contemporary way of life.
Mabin's first book, "The Drover," chronicled the Brinkworth Drove, a 2000-kilometer cattle drive that moved 18,000 head of cattle. It's "the world's biggest cattle drive," she says, and happened a couple of years ago — taking about 9 months of work all told. Afterward, she independently published the book and, via a distribution network she "had to develop on my own," she adds, sold a whopping 30,000 and more copies.
Not long after the book's completion, she was "in the wrong place at the wrong time" and collided with a tractor-trailer truck in an area around another accident. "I wasn't too injured," she says, and shortly after, "got home and got to thinking about it all." The realization came in due course: "My life revolves around trucks" in one way or another, she says. "Everything that I require in my life is brought my way by a truck driver. I started to realize that trucks deliver all of this stuff and we all take it for granted. I sort of thought, here in Australia, the only time you ever hear about trucks is in the media when something goes wrong. You never hear a good news story about trucks. They're really painted by the media to be rogue and a bad thing over here."
Sound familiar? Mabin decided she "was going to do something about this," she says. It wasn't easy going at first as she approached truckers and trucking companies with her camera and a pitch to be a part of a new book project. "They thought I was media," she adds. "In the end, I ended up doing 18 months of hitchhiking around Australia and New Zealand. There are 102 different truck companies in the book – ranging all sizes. Every time you turn the page, there's a new fantastic layout – and that all relates back to what it means to us in the general public. Someone from Australia or someone from anywhere in the world."
"Trucking is universal," as she sees it.
She's headed to the United States later this month, traveling in Texas, mostly, and making some appearances with the book.
"I absorbed so much on this legendary journey," she says, learning "how to drive a road train," the multi-trailer runs that are legal on many Australian roadways, "change tires, fix fuel leaks, tie down freight, and to cook on the side of the road. Every driver is transporting something different from family-run businesses to major corporations like McDonald's."