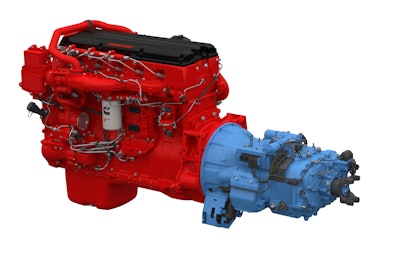 Engine maker Cummins and transmission maker Eaton announced Monday a new partnership to develop automated transmissions for the heavy-duty truck market. The deal further solidifies Cummins' and Eaton's four-year partnership on integrated powertrains, which offers truck buyers an alternative to truck makers' proprietary powertrains.
Cummins and Eaton will each own 50 percent of Eaton Cummins Automated Transmission Technologies, a global partnership that will launch in North America. Cummins will consolidate joint venture results as part of its components business segment and, under the terms of the agreement, Eaton will receive $600 million in cash from the engine maker for its share in the deal.
Cummins Chairman and CEO Tom Linebarger says the partnership will deliver advanced automated transmissions while also developing an integrated powertrain and service network.
Cummins and Eaton have been partners for decades, but Ed Pence, vice president and general manager of Cummins' high horsepower engine business, says the joint venture will accelerate both companies' ability to expand their global footprints by combining Eaton and Cummins engineering and technological expertise.