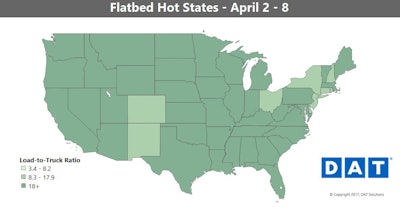 Perhaps the biggest evidence comes in the national picture for flatbed freight, which continues to show very high load-to-truck ratios in most states after another strong month in March. At once, noted owner-operator Andy Soucy, commenting on Facebook with a winking emoji in response to a prior report on March monthly averages, " Of course. It happens every year this time. It marks the beginning of spring."
There was a spike in rates to close March in the numbers, notes DAT's Ken Harper. Some of that subsided last week, but as you can tell in the Hot Market Map above and as noted, demand is still high across much of the country.
Hot markets: Prices have surged out of Phoenix; Los Angeles; Birmingham, Ala.; and Jacksonville, Fla., in the past month. Last week saw a big uptick in rates out of Rock Island, Ill., while Cleveland also started showing signs of life. The lane from Rock Island to Kansas City paid an average of $2.81 per mile, which is a rate you'd usually see in the summer.
Not so hot: Memphis, where rates dropped after volumes tumbled. This could be temporary, considering how strong demand is everywhere else.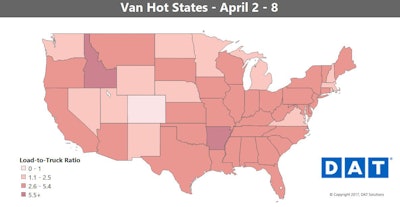 Van overview: Volumes were down last week, somewhat normal given it followed the typical rush of freigh at the end of the first quarter Rates stayed on their upward trajectory, though, and the national average van rate climbed to $1.69 per mile.
Hot markets: Load counts actually rose in Atlanta last week. Outbound rates were up as well, which is a normal springtime trend, but rates also rose on some major inbound lanes. That's unusual for this time of year. For example, the lane from Memphis to Atlanta paid 13 cents better on average last week at $2.23 per mile. Van rates were also trending up in Philadelphia and Los Angeles.
Not so hot: A mid-March freeze killed a lot of fruit in Georgia and the Carolinas, which has affected reefer volumes. That may have caused reefer trucks to spill over into van capacity in the Charlotte market, with extra competition driving down rates.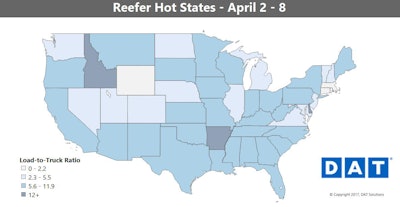 Reefer overview: Reefer freight has gained moment in the past couple weeks. Miami continued to ship a high number of reefer loads, while the Lakeland market in the central part of the state joined the Florida parade. Overall, produce areas were up, while urban areas were generally down.
Hot markets: Reefer rates have been strong in Nogales, Ariz., and demand should stay strong near the border there and in the border town of McAllen, Texas, with avocados shipping ahead of Cinco de Mayo. In California, shipments out of the Santa Maria district have pushed outbound rates up in the Fresno market.
Not so hot: High volumes of produce going into urban areas like Atlanta, Chicago and Dallas led to lower reefer rates coming out of those markets. The big surprise was Southern Idaho. Even though demand was strong – which you can see in the Hot States Map above – prices on outbound lanes dipped considerably.