It's typical for spot volumes to drop in the week before Easter, since that week tends to wrap up early on Good Friday. Good news is that the drop-off was slight compared to previous years, while the national average van rate dipped 1 cent to $1.68 per mile. Noted DAT's Ken Harper about the overall van and reefer markets last week: "The really good news is that California is back in play for both van and reefer. The net result is that van rates are rising earlier than they did at this time a year ago."
Hot markets: Fresno, Calif., has picked up steam thanks to produce shipments, which helped lift rates out of Stockton. Dallas, Seattle and Chicago all had higher van volumes last week when you'd usually see fewer.
Not so hot: Buffalo and Columbus were down a bit. Both are jumping-off points for freight going deeper into the Northeast, and the slowdown is normal for this time of year.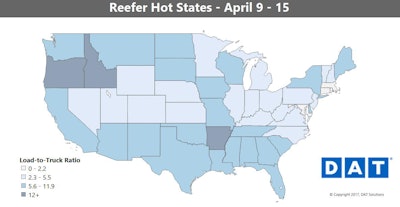 Reefer overview: More and more produce is hitting DAT load boards, and rates overall are rising earlier than they did in 2016, as noted above. Easter had the same effect on reefer load counts, but the rush to get produce in stores contributed to higher rates out of Florida; Fresno, Calif.; and near the border in Nogales, Ariz.
Hot markets: Reefer rates were way up out of Florida. The lane from Miami to Baltimore rose 39 cents to an average of $2.15 per mile. Out of the central part of the state, reefer loads going from the Lakeland market to Baltimore surged 49 cents to $2.06 per mile.
Not so hot: Volumes were lower in Atlanta, Sacramento and Green Bay, Wis. There were also fewer apples and eggs shipping out of Grand Rapids, Mich. But other than the declines in Michigan, none of the other dips appear to be part of any ongoing trend, so reefer freight still looks positive going forward.