This past week, van freight on the spot market appeared to be slowly and steadily improving across the country, noted DAT's Ken Harper, with some notable exceptions in the Midwest. Although the national rate only moved up a penny, in the high-volume lanes we saw more lanes with van freight going up rather than down.
Hot markets: More and more states in the map are turning darker, which is a good sign going forward. The top 5 markets for van load posts on DAT load boards last week were 1) Atlanta, 2) Charlotte, 3) Houston, 4) Dallas and 5) Memphis. All five had load-to-truck ratios above the national average of 3.6, with Charlotte topping out at 6.1 loads per truck.
Not so hot: While rates might not be up as much as we'd like, there at least haven't been any significant downward trends. Buffalo and Denver are the only major markets where outbound rates have slipped more than 1 percent for the month.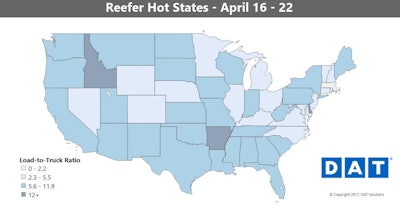 Reefer overview: Reefer volumes were down significantly in some key markets, but reefer rates didn't suffer. It could be that we're in between waves of shipments, with some crops winding down while others pick up steam. In Florida, load counts were likely down because of the recent wildfires.
Hot markets: Those wildfires and evacuations made it more expensive to move freight in Florida, so even though volumes were way down, rates surged on some outbound lanes from Miami and Lakeland, Fla.
Not so hot: It's now past peak season for Mexican produce crossing the border at Nogales, Ariz., but there are still a lot of truckloads of watermelon and vine-ripe tomatoes shipping weekly. The biggest drop of the week was on the lane from Chicago to Philadelphia, which fell 23 cents to an average of $2.37 per mile.