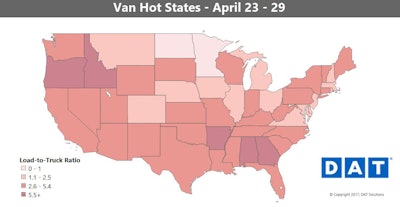 Last week's load-to-truck ratios for dry vans around the nation are shown on the map from DAT Load Boards up top (darker states on the map represent better conditions for truckers). DAT's Ken Harper notes the freight-volume picture was more or less the same as in March to close out the month. The final week of April, "we had expected a bigger bump with the usual end-of-month inventories being cleared, but the bump didn't happen," Harper says. "I've read in several places that higher-than-expected inventories in markets ranging from retail to autos had a dampening effect on GDP and economic forecasts."
At once, the national van rate average was up 4 cents. "Atlanta is the place to be for both van and reefer loads, ranking No. 1 and 3, respectively, for those freight types," says Harper.
More promising news: California van volumes are up, as are rates out of L.A.
Not so hot last week: Chicago volumes are still off, while outbound rates from Philadelphia had the biggest decline. The good news was that most other drops in rates were slight.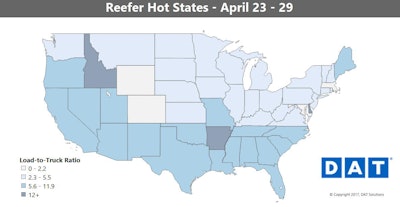 Reefer overview: Markets close to the Mexican border posted high load-to-truck ratios last week thanks to cross-border produce, including Nogales, Ariz., and Laredo, Texas. Volumes soared 64 percent in McAllen, Texas.
Hot markets: Central Florida is hitting peak season, and reefer loads going from Lakeland to Baltimore paid 24 cents better last week at an average of $2.24 per mile. Miami to Northern New Jersey had the second biggest jump, up 17 cents to $2.26 per mile.
Not so hot: An unusually wet winter in California led to delays in planting, which has caused some shipping gaps recently. Produce shipments from the state should gain strength in the coming weeks, but in the meantime, rates from Sacramento to Denver dropped 14 cents on average.