So I've got this book called "100,000 Miles of Crazy" I put together from our experiences during my first year on the road with George. Todd was kind enough to do a write-up on it, and apparently my sales are huge at my mom's house, so all is well with the project now. But it wasn't as easy as I thought it would be to do a book.
You'd think someone who writes for a living would naturally know how to go about the process, but, of course, like everything else in the world, it's a lot more complicated than it appears. There's a lot of formatting, and strict rules about sequence and page numbers and all that jazz. Silly stuff I imagined the book-printing fairies did for you. There are rules, lots of them, and I think it's pretty clear I'm not a huge fan of unnecessary rules in my life, so instead of being reasonable and learning the rules, I fought them, and made myself and everyone else crazy in the process of getting this thing right.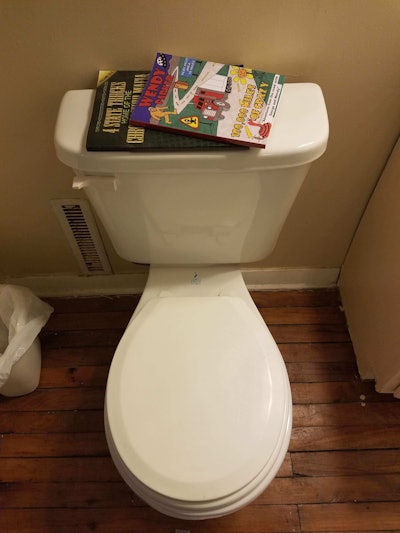 After combing the manuscript eleven million times, I really could have cared less if there were errors. I was over it, and just wanted to see the dang thing in print. I subbed the final and got my approval, ordered myself a box of give-away copies, and waited impatiently to see the book in print.
Consequently, ordering a box of copies takes longer to deliver than a single copy, because the books are printed on-demand and large orders are scheduled instead of on-demand. So I wasn't the first one to get a copy of my book, but my dear friend and editor of the book got hers, and the phone lit up:
"Did you check the final carefully? I think the book is messed up."
For someone who is on pins and needles about their first book, this statement is the equivalent of being slapped in the face by Godzilla. I was imagining thousands of copies being printed with a picture of a pimple on the cover, instead of the insanely cool artwork my father-in-law (AKA, The Dirt Collector) did for me.
"What do you mean 'it's messed up,' what's wrong with it? And yes, I checked it, I read through the whole damn thing to make sure."
"The table of contents is in the back of the book."
"There's a table of contents?"
"Yes! I added it when I had to go through and re-do all the page numbers."
I'm sure she would have liked to have added, "Because your silly self refuses to format correctly," but she left that part out.
"Well it's really no big deal, sis. I mean, I kind of like the thought of having the table of contents in the back – it's pretty indicative of my life in general. I figure it all out in the end, but it takes some crazy 'in-between' to get there. You scared me. I thought it was something terrible."
"No."
"What do you mean, 'no'? I can have it in the back if I want to."
"I mean no. It's fixed in the file I just sent you. Re-upload it and fix it."
And I realized if I didn't fix it, it would be like when I refused to get up for school in the mornings, declaring I would sleep for 15 more minutes, and my momma would say, "OK honey, you go ahead," and blast church music from the kitchen so it would be impossible to sleep. (The force is strong with my momma, she's impossible to defeat, especially when she throws church music into the mix.)
So I fixed it. But the first 150 or so copies that went out have the table of contents in the back, and have two extra pages in the back that are supposed to contain the dedication and acknowledgments, but again, because I don't format correctly, the dedication ended up in front, where the table of contents should be. They also lack acknowledgment for Dad The Dirt Collector, who, as I mentioned before, hand drew the best cover I could ever have.
Normal people might worry folks would want to return the ill-formatted books. I prefer to make the statement that the messed-up books will be worth a fortune when I'm dead. This is likely a filthy lie, but I can dream, can't I? Also, I'm pretty sure my mom, extended family and close friends got the first 150 copies, so they're probably not surprised at all to find the format unusual.
If you're looking for a literary investment that involves my imminent demise, you missed your chance. If you'd like to have a book you can open anywhere and read for a few minutes, and put down sans bookmark without worrying about losing your place, this is your kind of book. And if that sounds remarkably like a great bathroom book, I can't take credit for it, because my marketing friends die a little every time I say it. I'll just let the picture speak for itself.