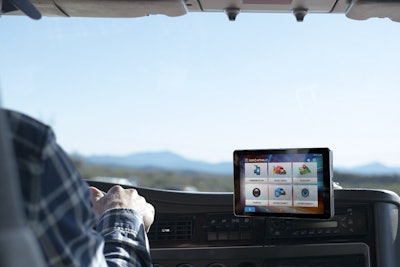 Rand McNally's new dashboard device combines truck-specific navigation, an on-board SiriusXM radio, voice assistance, a built-in dashcam and hands-free calling and texting. The OverDryve 8 Pro, part of Rand McNally's OverDryve platform, is also electronic-logging-device ready.
"The OverDryve 8 Pro is quite simply the most robust, driver-focused dashboard device that we've ever produced," said company CEO Stephen Fletcher. "We understand the amount of time professional drivers spend in their trucks, so OverDryve 8 Pro brings together not only valuable tools to help get the job done, but also a fully loaded entertainment solution that can be used to watch movies, listen to SiriusXM, access social media and check email."
OverDryve 8 Pro builds on the success of Rand McNally's GPS units, offered by the company since 2009, and its advanced truck navigation available on an Android tablets pre-loaded with trucking applications and access to the Android marketplace, debuted in 2015. The OverDryve takes things further, the company says.
With voice assistance, it enables drivers to do more hands-free – including texting and calling. All of the audio the device can be played through a truck cab's speakers, the company says.
The built-in SiriusXM receiver gives drivers access to the satellite radio network's programming bundle. Customers purchasing the OverDryve 8 Pro can contact SiriusXM to take advantage of the "Never Miss a Beat" offer, which gives them the first three months of SiriusXM's "All Access" subscription.
OverDryve 8 Pro features:
8-inch high-resolution screen providing access to key items at a glance
Rand McNally truck-specific navigation and routing with truck POIs, advanced lane guidance, toll costs, warnings, fuel logs and more
Hands-free calling and texting
Voice assistance
Audible news, weather, traffic, sports and more
Music from drivers' favorite sources
Built-in dash camera
Magnetic mount
The OverDryve 8 Pro also comes pre-loaded with the Rand McNally DriverConnect logbook app, so the device is ELD-ready. The app can be paired to the company's ELD 50 and/or its DC 200 plug-in devices (with subscriptions) to provide full ELD functionality.