Rates are starting to move on the spot market, starting May for flatbeds on average (based on the first full week, last week) at the highest point ($2.09 per mile nationally) seen in two years, says DAT's Ken Harper attendant to this week's spot market update, based on loads matched on DAT load boards.
Vans, too, some taking advantage of growing produce volumes to haul commodities that don't need reefers, Harper adds, showed a national rate average that was the "highest … we've seen since January" at $1.70 per mile.
Or perhaps more truckers in a position of strength in high-demand areas are taking to heart what owner-operator James Woods advised some weeks back now: Don't like the rate you're being offered? Well, best things come to those who wait.
At once, flatbed volumes have seen a small downturn recently, but as noted above rates have been on a roll.
Hot markets: Lower oil prices may start to cool things a bit, but construction in various markets is still fueling demand. Load counts and rates were up especially in Houston and Savannah, Ga, which also helped to boost rates out of Fort Worth, Texas, and Atlanta, with freight hitting the seaports and then moving inland through the conversion process.
Not so hot: As you can see in the map, demand is high across most of the country. Directionality matters, though. For example, rates from Las Vegas to Southern California have trended up, while flatbed loads going from Vegas to Northern California have paid less.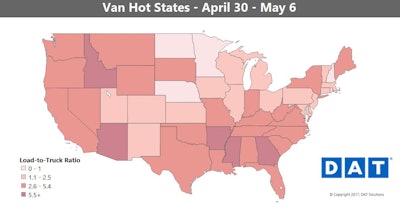 Despite the rate rise, volumes slipped a bit last week for vans, too, with some energy-sector freight leaving the van marketplace.
Hot markets: Vans as noted are benefiting from produce harvests, which have helped turn Georgia and Idaho dark red in the map. Tomato production is also gearing up out of California. That means cans of tomato paste and sauces will start to move. From June to October last year, California shipped 500,000 loads of processed tomato products.
Not so hot: Rates and volumes continued to slide out of Philadelphia. On average, outbound lanes to Buffalo and Boston paid 13 cents and 10 cents less per mile, respectively.