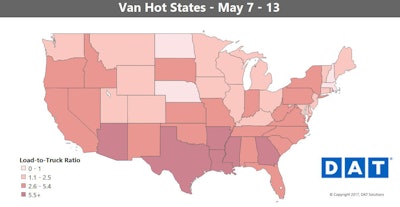 For the most part, van volumes on the spot market have been flat since March, but still well above last year's numbers. Last week was a mixed bag, though. The national average van rate was down 2 cents to $1.68 per mile, but the average rate on the top 100 van lanes was up. In general, shorter regional lanes paid better, while long-haul lanes paid less on average. Thus, notes DAT's Ken Harper, it pays to know the the temperature of both the "markets you're going into" as well as those you're going out of. The maps in these weekly updates show the average load-to-truck ratio for the week — darker-shaded states indicate a better origin-point negotiation strength for truckers.
Hot markets: Houston and Charlotte had the biggest increases in van volumes last week, and outbound rates from each market – along with Los Angeles – have trended up for the past month.
Not so hot: As you can tell in the Hot States Map, the Midwest is still looking sluggish. Intermodal companies have been competing for market share with aggressive pricing, and that's pushed truckload rates lower on longer lanes that compete with rail. For example, Houston to Los Angeles was down 10 cents to a very sluggish $1.21 per mile average.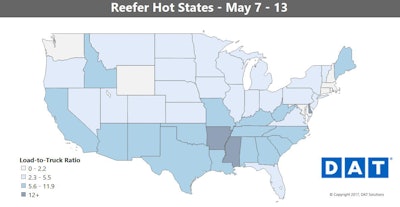 Reefer overview: Of the top 72 reefer lanes, 51 had higher spot market rates last week. That's despite uneven production out of Florida, shipping gaps in California and a drop in volumes in markets near the Mexican border. 
Hot markets: Instead, the higher prices were boosted by higher load counts in urban markets like Chicago, Atlanta and Los Angeles. And while Florida has cooled in the Hot States Map above, demand in the central part of the state has been high enough to help prop up outbound rates. Potato shipments have also picked up out of Idaho, while California produce is expected the push the segment through the Fourth of July.
Not so hot: Miami started to fade last week. Prices also fell on some outbound lanes out of Philadelphia, but that should snap back soon with produce shipping out of Southern New Jersey.