While an abundance of van capacity has mostly kept spot market rates from advancing very much so far this year, last week, the national van load-to-truck ratio (the number of van load posts on DAT load boards divided by the number of truck posts) hit its highest mark since early January, notes DAT's Ken Harper. The ratio hit 3.7, moving closer to 4 loads per truck — at 4, in the view of DAT analysts, it starts to favor carriers in a big way.
"That's hopefully a good sign," Harper says.
Here's what it looked like on a state-by-state basis:
On the top 100 van lanes, 55 had higher rates last week, while 15 were neutral — the national average van rate, meanwhile, got back one of the pennies it lost last week, but that's something when you consider it's averaged over more than 65,000 lanes all told.
Not so hot last week: Of the 30 major van lanes with lower average rates last week, most declines were muted. Memphis to Columbus, Ohio, fell the most, down 13 cents to an average of $1.90 per mile. Chicago outbound rates continued to lag in general, with volumes flat last week compared to the week before.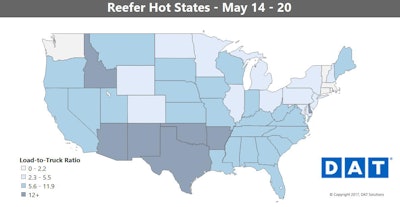 Reefer activity has slowed in Southern Florida, while demand for reefer trucks has picked up farther west.
Hot markets: Volumes and rates were up out of Atlanta, part of which could be onion shipments, plus whatever peaches survived the late-winter/early-spring freeze. Illinois is still pale in the map above, but reefer volumes were up 12 percent in Chicago. If that's sustained, it could also give vans a much-needed boost, since reefers sometime compete in the van marketplace when capacity is loose.
Not so hot: Lakeland, Fla., in the central part of the state, is still No. 2 for reefer load posts on DAT load boards, but the drop-off in volumes out of Miami has led to more trucks heading north to find loads. Rates were down by a lot in both markets.
Miami to Atlanta, meanwhile, is one of those lanes that flips from paying generally low, "backhaul" rates to better prices during the produce season. It's backhaul-low again today, meaning that you get paid more for reefer loads going from Atlanta to Miami than the opposite. Even though southern Florida has slowed down, the northern part of the state still has a high load-to-truck ratio, and you can use that to your advantage when putting together a route.