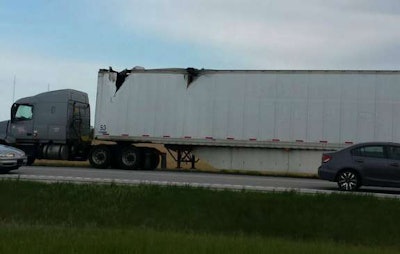 A truck driver who was driving along the Ohio 53 in Fremont, Ohio, at about 4 p.m. Tuesday, May 9, told police he heard and felt a thump, and he pulled over to see what had happened.
Russ Street, who drives for South Shore Transportation of Sandusky, Ohio, said he thought he may have "blown a couple tires," but instead found the landing gear of a light plane sticking out of the roof of his empty trailer.
Ohio State Police report that Street's trailer was struck by a small aircraft that was making a landing approach at Fremont Airport southeast of Toledo and south of Lake Erie.
Police say the pilot, 71-year-old John Randall, was on a short practice flight when he came in too low. Randall managed to land the plane on its belly.
"It rocked the trailer. I thought the semi was going over," Street told the Sandusky Register. "I thought I might have blown a couple tires."
The report adds that Street's trailer was empty when it was hit. No injuries were reported in the crash.