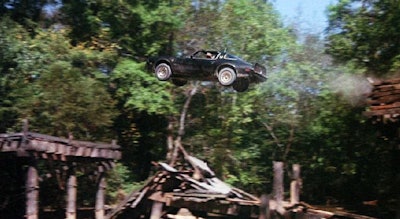 Fans of perhaps the most classic trucking film of all time, Smokey & the Bandit, will no doubt recall the sequence of events depicted above, including a classic jump that stunt driver Oliver Keller and a variety of support staff are working on re-creating next month.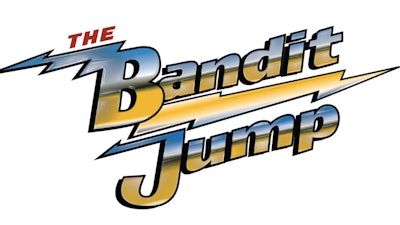 June 24, in Jonesboro, Ga., Keller and company will join a crowd of spectators near the end of the Snowman's Run and Bandit Run events for the jump, a short distance from the actual location where the original stunt took place.
This year, as we've reported elsewhere, marks the 40th anniversary of the 1977 film. The movie was the second-highest-grossing film of 1977, second only to Star Wars. Produced with a budget of $4.3 million, Smokey & the Bandit posted an astounding worldwide gross of more than $300 million.
Murrieta, Calif.-based owner-operator Tony Pennello, known for, in addition to his freight business, film production and stunt work himself, alerted Overdrive to the upcoming event. Pennello was "asked to take the Bandit car and jump ramp from Los Angeles to Jonesboro, where they'll do the jump."
The event is also happening in tandem with a fund drive for DAV, a nonprofit dedicated to the needs of disabled military veterans.
"I've been involved with a couple of films with disabled vets, and I think it's a great thing," Pennello says. "We've just heard that one of the A model 1976 W9 clones of the Bandit rig [may] follow us" cross-country for the haul, "or we're going to follow him." It may turn into a tour with scheduled stops along the way, he adds.
June 22-June 24, as the Bandit and Snowman runs meet in Jonesboro, a multi-day event is being planned to feature among other things a bus tour of filming sites, scene reenactments, a trip to Atlanta Motor Speedway for a car show and trips around the track, as well as nightly social gatherings.
If all goes according to plan, it will all culminate around the 150-foot car jump.
Find more information on the Bandit Jump event via this link, the Snowman's Run via this link, and the Bandit Run here.