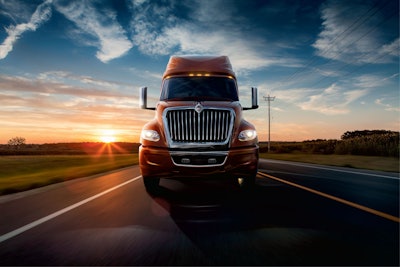 Navistar International on Wednesday reported a second quarter 2017 net loss of $80 million, compared to a income of $4 million for the same period last year.
Higher used truck losses, primarily resulting from a $60 million increase to the used truck reserve for the company's legacy MaxxForce 13 used truck inventory, was the largest contributor to the year-over-year decline, the company says.
Revenues slid 5 percent to $2.1 billion – a decrease driven primarily by lower sales volumes in Class 6-8 trucks and buses in the U.S. and Canada. Chargeouts were down five percent, but higher than industry core market volumes, which were down 13-percent year-over-year.
"We are on track to improve on last year's results, but still have quite a bit of work to do in the second half," says Navistar Chairman, President and Chief Executive Officer Troy Clarke. "However, the work we've done in the first six months growing share, building our backlog, and managing costs, combined with improving industry conditions, positions us to deliver a stronger second half."
Navistar says it is shifting its sales strategy for used trucks equipped with the MaxxForce 13-liter, including selling more units into export markets – a move it expects will accelerate efforts to reduce its inventories of these trucks.
Truck segment net sales declined six percent to $1.4 billion in second quarter 2017 compared to second quarter 2016, due to lower Core volumes, the impact of a shift in product mix in the company's Core markets, and the cessation of sales of CAT-branded units sold to Caterpillar. This was partially offset by an increase in Mexico truck volumes. Truck chargeouts in the company's core market were down five percent year-over-year.