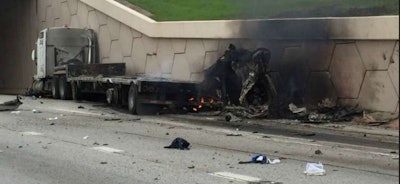 A police chase involving a stolen tractor-trailer in Arlington, Texas, last week ended in a fiery crash and a standoff along I-30. The driver of the stolen truck, Jose Luis Cano Olivas, was arrested and charged with aggravated assault with a deadly weapon and evading arrest.
A report by the Fort Worth Star-Telegram says the chase began Friday afternoon, June 9, when Olivas, driving a stolen tractor pulling a flatbed trailer, fled police. The chase ended in Arlington after Olivas struck another vehicle and crashed into a retaining wall of the Cooper Street overpass.
During the chase, as many as five vehicles were struck and 12 people injured, though none seriously, according to the Star-Telegram.
A standoff with police continued for at least two hours, but ended without further incident at 3:20 p.m. Central.
The newspaper also reports the owner of Pesado Transport in Socorro near El Paso confirmed the tractor and attached flatbed trailer were stolen from that company.
Here's the man SWAT pulled from a semi truck following a high-speed chase and standoff on I-30 in Arlington today https://t.co/KnyrJyF5WW pic.twitter.com/JKSXk8Pkmg

— Claire Ballor (@claireballor) June 9, 2017