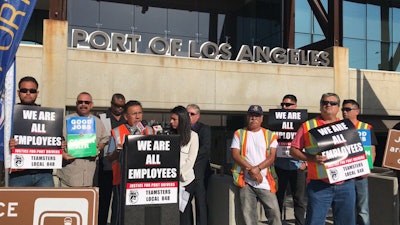 Los Angeles/Long Beach, Calif., drayage truckers will strike at three companies after both cities unveiled plans to transition to zero-emission trucks by 2035 and promote common environmental standards at ports nationwide.
Both cities had signed declarations expanding their Clean Air Action Plans to launch a zero-emissions port truck pilot program in upcoming years, to make new investments in clean technology and expand at-berth emission reductions.
However, they did not indicate to what extent truckers would shoulder the cost to comply with the new goals. "The last time they did this in 2008 with the Clean Truck Program, the corporations ended up passing on the cost to the workers by requiring them to lease a truck in order to get hired and illegally misclassifying them as 'independent contractors,' leaving very little for the workers to take home to their families," said Eric Tate, Teamsters Local 848 secretary-treasurer.
It's official. Port Drivers announce at @PortofLA to harbor commission meeting that we're going on strike. pic.twitter.com/bPX12p6TPo

— Justice4PortDrivers! (@PortDriverUnion) June 15, 2017
Owner-operators planning to strike will begin picketing XPO Logistics Monday before spreading to Intermodal Bridge Transport and California Cartage Co. Tuesday. Speakers at Thursday's press conference, organized by the Teamsters union, say the companies treat them as employees as a general rule, but as independent contractors when it comes to benefits and compensation.
Numerous federal and state authorities have ruled they should be classified as employees, said Tate. Over the last several years, the California Labor Commissioner has ordered more than $40 million in back pay to port owner-operators it determined should have been classified as employees instead of independent contractors, he added.
While litigation and strikes over misclassification have continued, it was the mayors' joint announcement Monday to mandate zero-emissions port trucks that sparked what will be their 15th work stoppage in four years.
During Monday's announcement, city mayors noted that a detailed CAAP timeline and process would be released within 15 days and the plan fully updated by Nov. 1.
They had also introduced their Green Ports Collaborative to unite cities and ports in shared environmental standards, beginning with the West Coast before moving nationwide. The effort will include demonstrating future demand for zero emissions equipment, and working with manufacturers to produce the technologies needed.