This week's spot market demand update sees capacity loosening up a bit — truck posts growing on DAT load boards, notes company rep Ken Harper. However, "volumes remained high, so we still have the highest van load-to-truck ratio in years" and average "van rates are still looking good" by comparison to recent months and years.
Getting closer to the end of the month however, "and a weird Fourth of July on a Tuesday," says Harper, it's "questionable how long the rates will hold up."
Hot markets: Atlanta and Los Angeles have been leading the way in terms of rising rates and volumes. Seattle rates had been falling, but there was a sharp uptick in volumes that pushed prices back up last week.
Not so hot: There were still more rising lanes than falling ones on the 100 highest-volume van lanes, but the gap closed, as prices fell on 40 out of 100. Average outbound rates lost traction from Allentown, Pa., and Denver, due partly to a change in the mix of long-haul versus short-haul loads.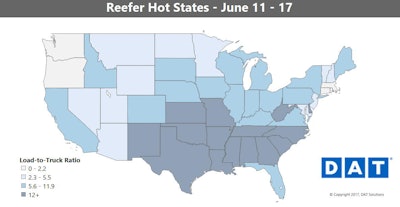 Reefer overview: The national average reefer rate was unchanged at $2.11 per mile last week, the highest average in almost two years. Momentum slowed in major reefer markets and lanes, however. On the top 72 reefer lanes, only 27 had higher rates, a surprising result for mid-June.
Hot markets: Outbound rates moved higher in Los Angeles last week, gaining an average of 8 cents per mile. Freight volume increased out of Atlanta, boosting rates by 4 cents.
Not so hot: Miami and Lakeland, Fla., continue to slip into an off-season lull, and the downward trend accelerated due to wildfires and lackluster harvests. Volumes were also disappointing in two key California produce markets last week: Fresno and Ontario. California vegetable shipments in May were the strongest they've been since 2013, however, so outbound volume from the Golden State may yet achieve pre-drought levels. The border markets of Nogales, Ariz., and McAllen, Texas, also hit a speed bump last week, as did Grand Rapids, Mich., and Green Bay, Wis.