See the other two installments in the Jump Start series at this link, covering traditional diesel manufacturers' efforts on electrification and cost comparisons of running a diesel tractor vs. an electric truck.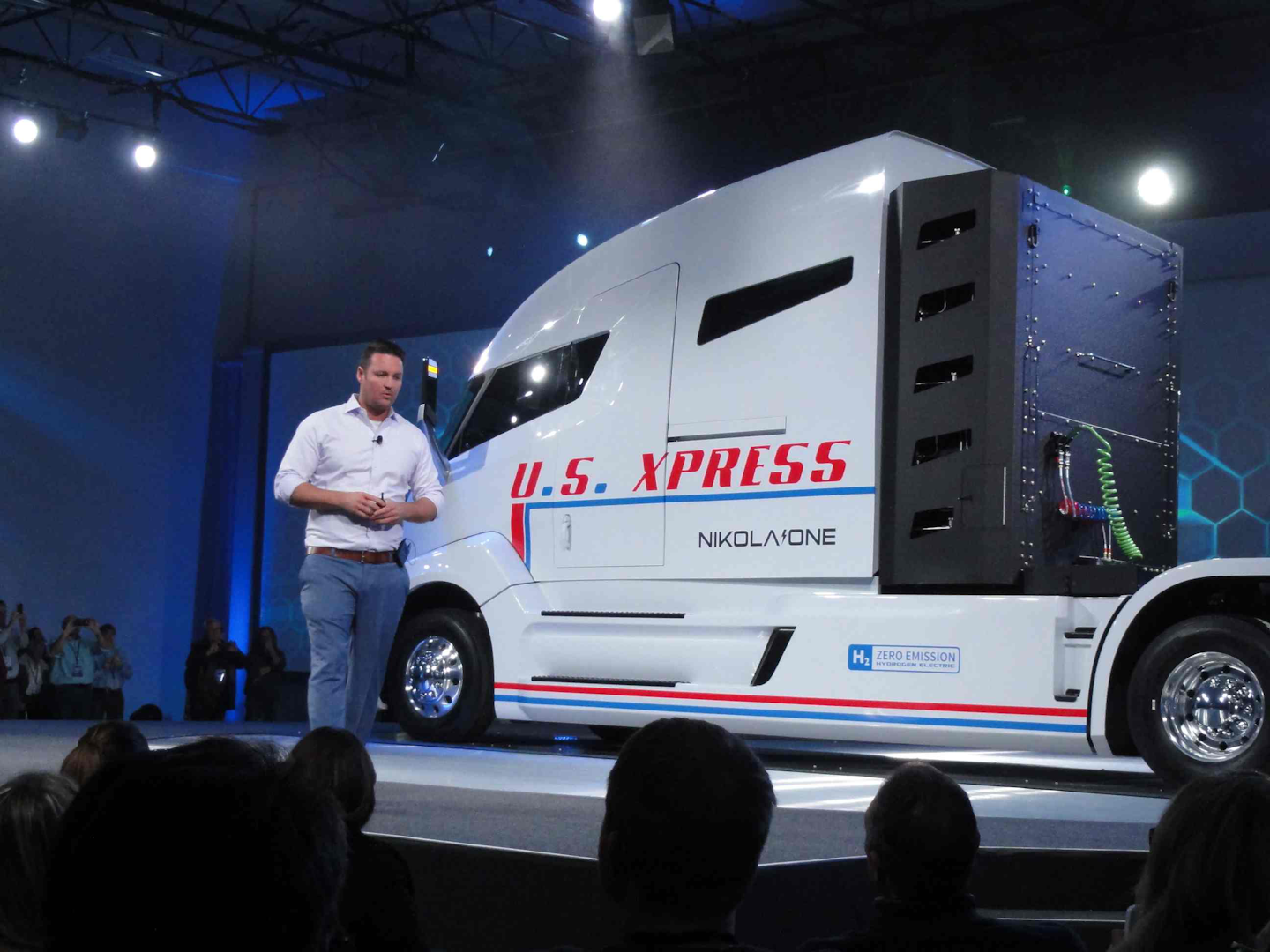 It hasn't been that many years since natural gas was pitched as the low-cost, low-emissions fuel of the future for trucking. In just the last year, trucking's fuel speculation has assumed an even more radical form: electricity.
A Navigant Research report projects sales of electrified trucks will grow to more than 150,000 annually in just 10 years. That encompasses medium- and heavy-duty trucks and would account for about 5 percent of those trucks forecasted to sell in 2026.
Startup Nikola says that 8,000 of its electrified tractors have been ordered. More than 1,000 of the prospective buyers are owner-operators, according to the company.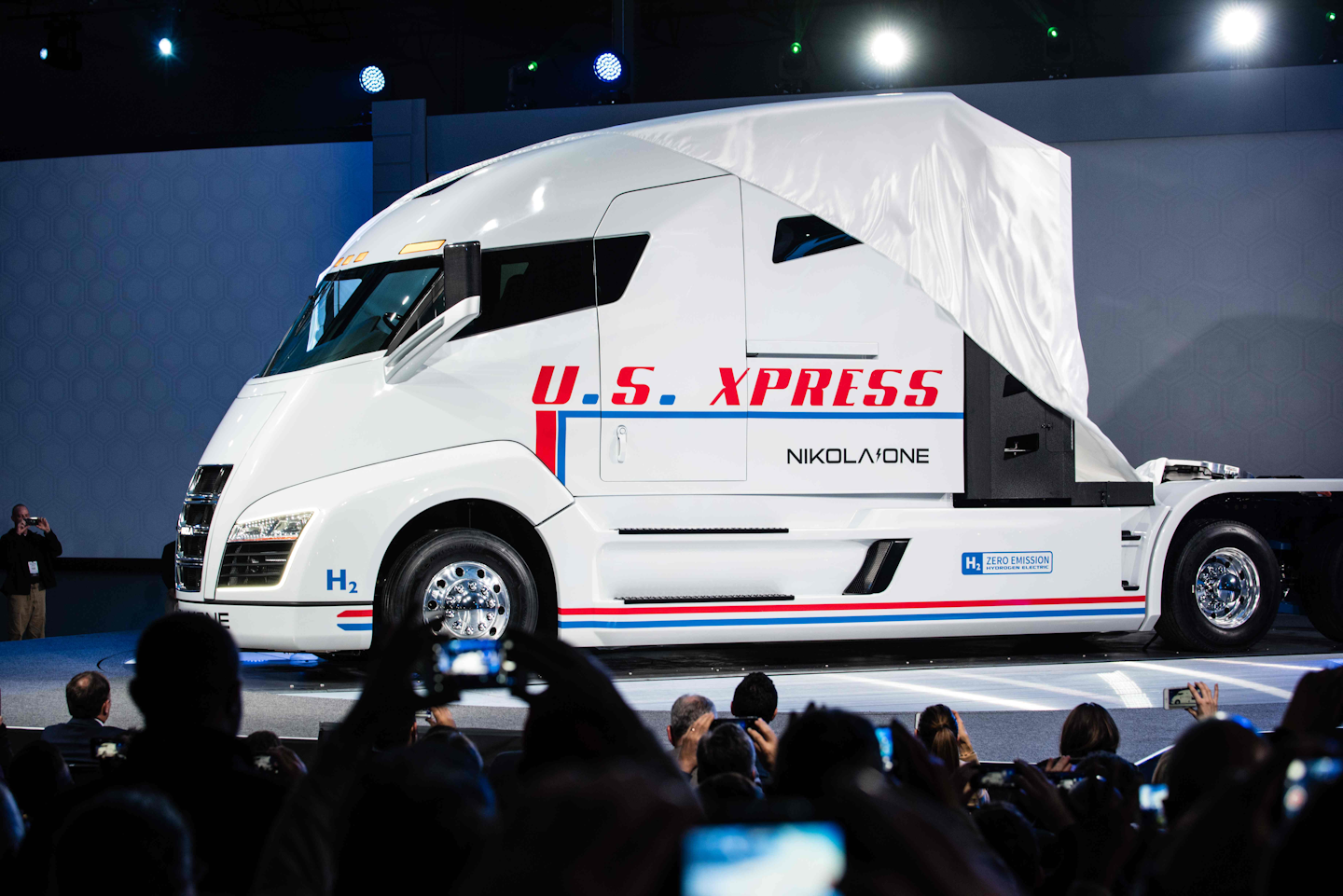 Given that no electric Class 8 vehicles exist for immediate sale today, selling 150,000 annually within 10 years would be remarkable. That would outpace sales growth seen so far in the still-fledgling electric passenger car segment, which has grown steadily since its introduction in 2011.
Developers of electrified trucks face the monumental task of replacing a status quo backed by a massive fueling infrastructure, a well-entrenched manufacturer and support base and a larger-than-life legitimacy among many industry stakeholders.

Questions also swirl around the unproven technology: Is it viable for long-haul trucking? How quickly can the infrastructure be built? Will there be one dominant technology or a variety of electric hybrids?
Some, if not all, of the diesel truck makers are in the early stages of developing electrified trucks for short-haul applications. However, it's newcomers to heavy-duty trucking – startup Nikola, Silicon Valley maverick Tesla and automaker Toyota – that are more aggressively leading the way for electrified powertrains.
Instead of just touting fuel cost savings as the primary benefit, as did natural gas proponents before oil prices plunged, developers are taking a more refined approach. They're focusing on high technology and low emissions to position electricity as the fuel of the future.
Nikola introduced its hydrogen-electric-powered Nikola One in December. The company promises 1,000 hp and 2,000 lb.-ft. of torque – specs exceeding the beefiest engines available from diesel manufacturers. Two electric motors on each side power the drive wheels.
"With four electric motors, you get a unique 6×4 experience with full torque nearly all of the time," says the company's website. "This means you do not have to hit a certain rpm to optimize torque. You should have full torque available at all speeds."
Nikola also touts a range of 600 to 1,000 miles on a single fueling. It expects to deliver its first trucks in 2020.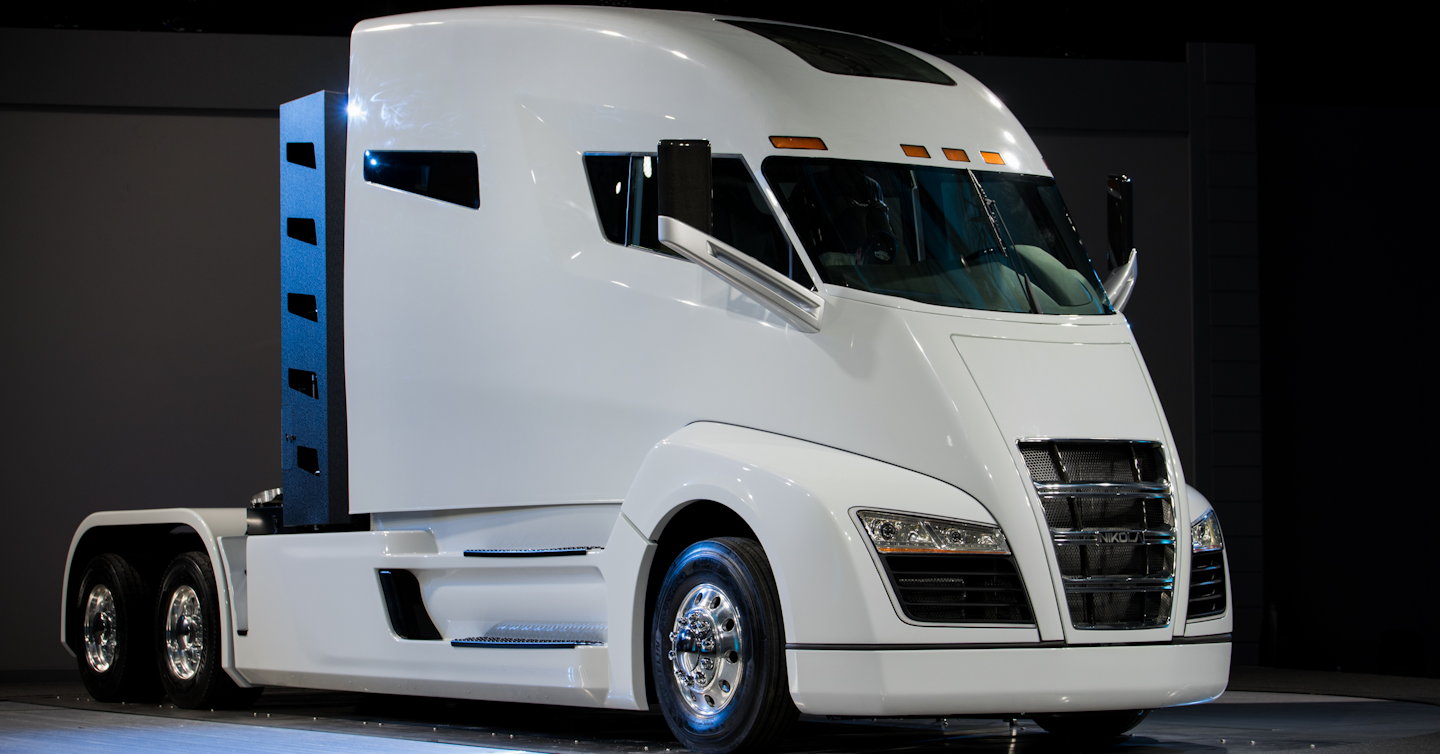 The company projects a full-service lease costing between $5,000 and $7,000 a month. Those figures include fuel, which will be free to buyers at Nikola-built fueling stations. It also includes, as a measure of assurance to its customers, maintenance and warranty service by Ryder, which has a network of 800 maintenance facilities.
Nikola also has contracted with Fitzgerald Glider Kits to build the first 5,000 Ones. U.S. Xpress, one of the country's largest and most technologically ambitious carriers, has committed to leasing some of the first units.
"This is a real truck," said Trevor Milton, Nikola founder and chief executive officer, upon introducing the rig last year. "My goal is to literally revolutionize the trucking industry."
The One stores 80 kilograms of compressed hydrogen. It's transmitted into a fuel cell, which "is a bunch of membranes that have different materials in them," says Milton. That includes precious materials, such as platinum, and nonprecious materials. "When hydrogen passes over them, it creates electricity," he says.
"We're creating about 800 volts of electricity that is captured and then sent to a central bus bar," which distributes the power, he says. "Excess energy goes to the motors, rotors, HVAC, inverters. The energy that does not go into the battery goes into the powertrain."
The energy also charges a spare battery that can power the rig if the main system fails. The truck also includes a standard vehicle plug-in port, so the spare battery can be rejuiced at charging stations if needed.
Hydrogen is safer than diesel, Milton says. If a tank is punctured in a crash, the gas leaks into the air and dissipates.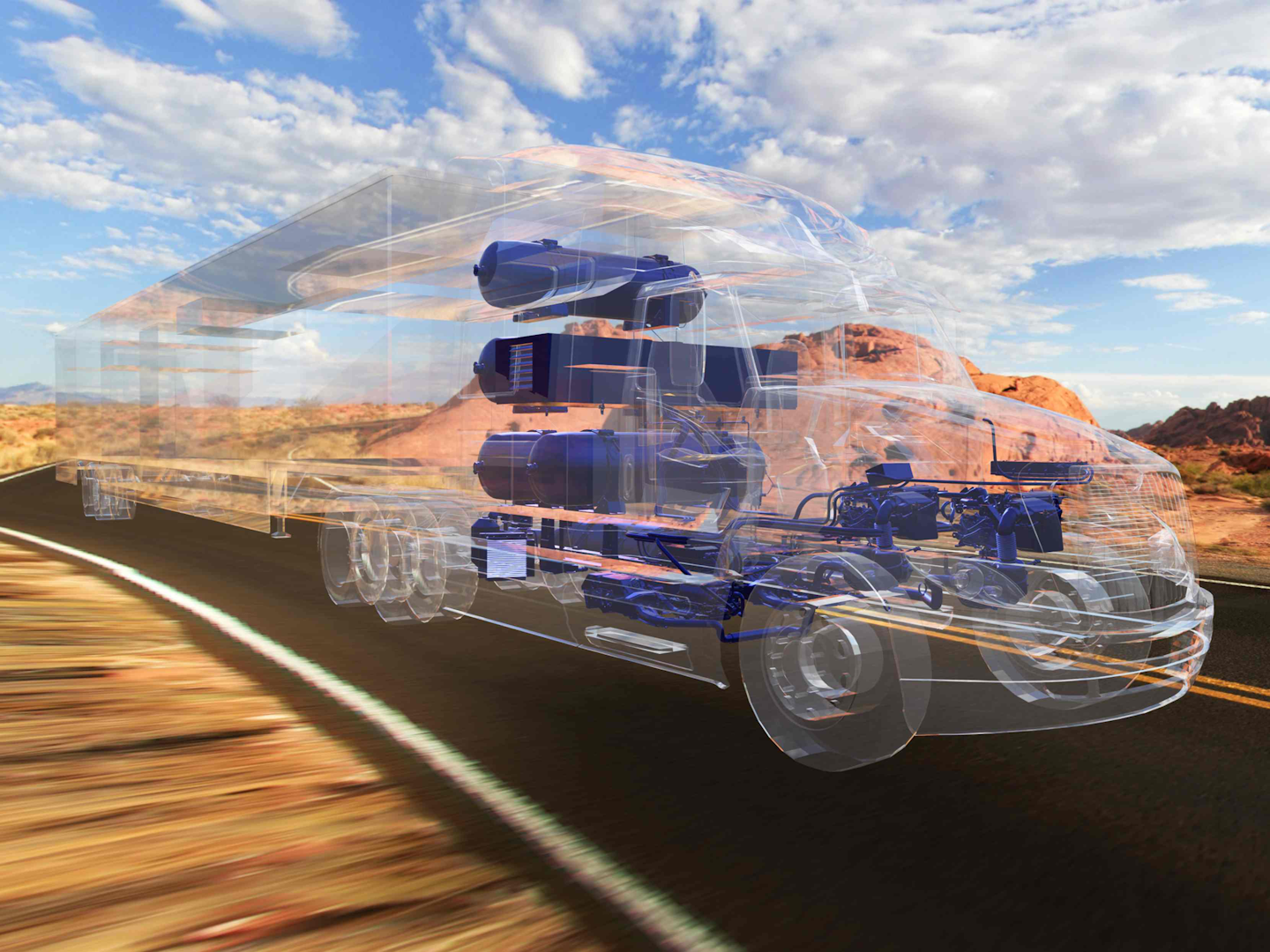 Milton says fueling will take only 15 minutes and require "no credit card swiping or any of that." Fueling stations will recognize the truck via RFID, so drivers simply will hook up to a hydrogen-dispensing nozzle.
Nikola has plans for more than 350 fueling stations nationwide, rolling them out in eight-station networks over 10 years. Every time it announces plans for a new network, it will accept orders for 4,000 trucks to run in that network.
With more than 8,000 orders placed for the One, no new orders will be accepted until next year, though Milton expects the number to climb to 30,000 by the end of 2018. About 20 percent of current orders (1,600 trucks) are from owner-operators, he says.
To reserve a truck, lessees had to pay a $1,500 deposit, though it's refundable should they change their mind.
Ryder is working with Nikola as the primary "service and warranty partner" for the Nikola One, says Scott Perry, Ryder's chief technology and procurement officer. "If you buy a vehicle from Nikola, not only is the hydrogen fuel supply included, but the scheduled maintenance is included as well."
Ryder's national service network for its vehicle-lease customers, primarily small private fleets, would be there for planned maintenance, Perry says. "For any unplanned maintenance, a warranty item would be executed by Ryder."
The company also will serve as Nikola's "sales and distribution channel," Perry says. Fleet interest in the One has been not solely in full-service leasing but also in ownership. Deals will be struck with Nikola, but Ryder will help facilitate delivery. For Ryder, "this is not going to be formal showrooms," he says. "We'd be leveraging the Ryder network to deliver" the vehicles to customers.
Perry notes that while the challenge associated with training to support any new technology on the maintenance side is considerable, Ryder has made good inroads with its 6,000 technicians "trained on all sorts of platforms."
While there are no Class 8 hydrogen-powered vehicles on the road today, Ryder's new partnership with the Workhorse Group, which makes the W-15 Electric Pickup Truck, "will allow us to begin developing capabilities on different electric-drive platforms," putting in place "training on high-voltage systems," Perry says.
That's already happening today via company servicing of refrigeration systems, such as Carrier's dual-voltage-optional Vector reefer product line.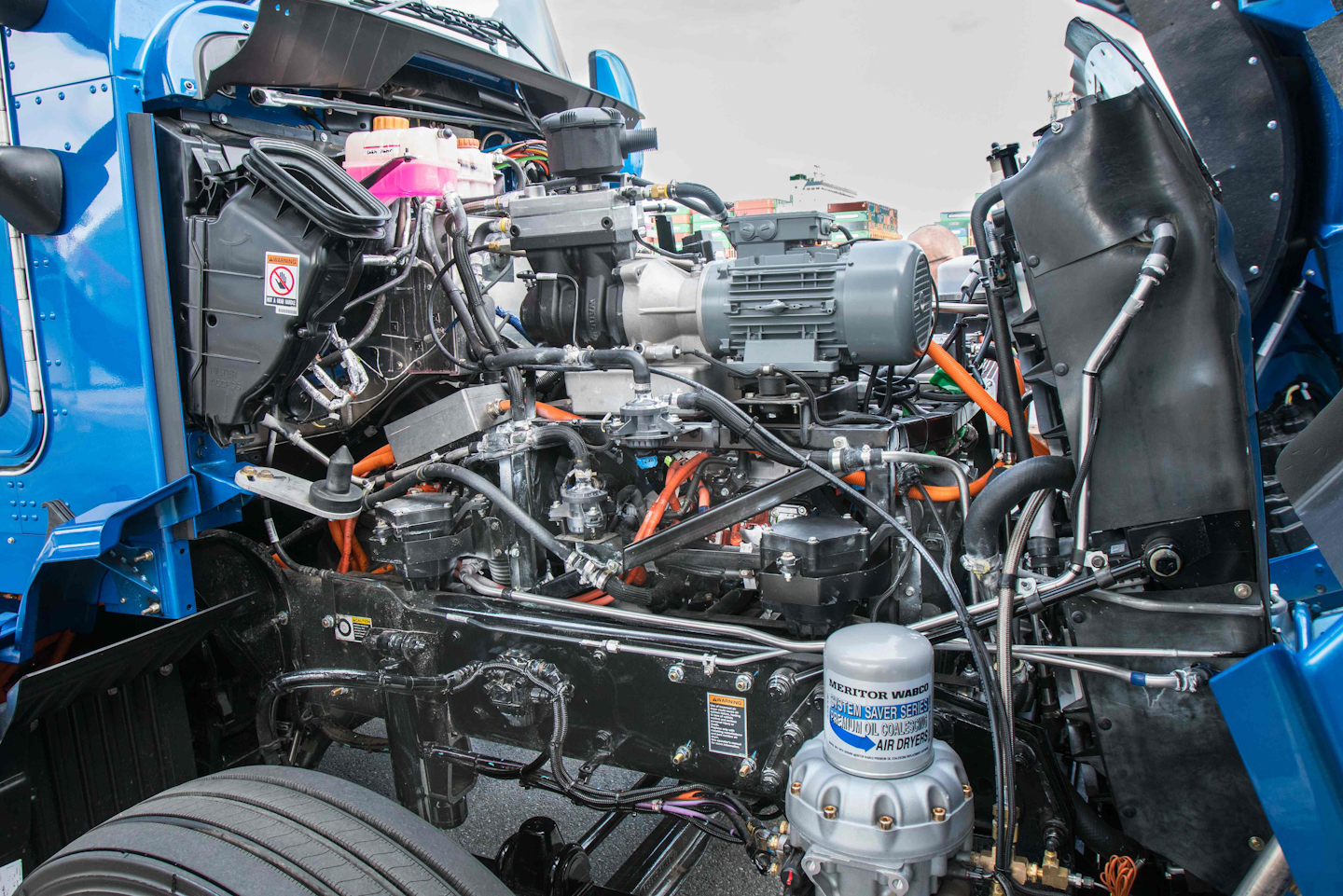 Toyota is testing a similar hydrogen-electric technology this summer in drayage operations at Los Angeles-area ports. "Project Portal," as the company calls the test, isn't an entrance into the Class 8 market, says Tak Yokoo, Toyota senior engineer. "It's a proof of concept to test the scalability of our fuel cell technology."
Opting to test its fuel cells in a Class 8 heavy-duty environment will showcase the technology's ability to perform on the largest of scales and in demanding applications, Yokoo says. The Project Portal tractors only have about a 200-mile range, but that's plenty for the California drayage tests, he says.
Like Nikola's system, the Project Portal truck uses onboard hydrogen to generate electric power. Toyota essentially stacked fuel cells used in its Mirai hydrogen-electric sedan, unveiled in 2015, to power the rig. It built the powertrain into a Kenworth T660 glider kit.
Tesla, an electric car pioneer spearheaded by technology billionaire Elon Musk, plans to unveil an electric rig in late September. Details are sparse, but the Tesla truck is expected to operate similarly to its electric car counterpart, via a battery-powered engine. The trucks will depend on charging stations, many likely built by Tesla.
"We've shown it to a number of the organizations that buy heavy-duty trucking, and they all love it," Musk said at the June 6 annual Tesla shareholders meeting in Mountain View, California.
"They just want to know how many can they buy and how soon."
Tesla has involved potential fleet customers in the truck's design, he said, "helping ensure that it's specified to their needs."
"This is something which people do not today think is possible," said Musk in May. "They think the truck doesn't have enough power or it doesn't have enough range. With the Tesla semi, we want to show that an electric truck actually can out-torque any diesel semi."
Morgan Stanley financial analysts presumed in a report that Tesla may offer battery leases paid for by truck owners, possibly at 25 cents a mile. The report also envisioned battery swapping stations, in which a driver would exchange a depleted battery for a charged one.
The truck will be "very spry," Musk said. "You could drive this around like a sports car."
The company declined Overdrive's request for an interview.
-Aaron Huff, Max Heine and Jeff Crissey contributed to these stories.