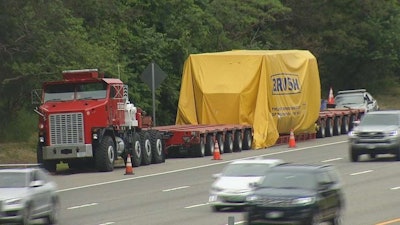 A truck weighing seven times the legal limit was halted along I-95 last week in Rhode Island for operating without an overweight permit.
According to a report from WPRI, the 16-axle truck weighing 560,000 pounds was hauling a massive generator through the state on its way to Massachusetts.
The company hauling the generator, Bay Crane Northeast, had applied for a permit, but started the trip before the permit was granted, the report adds.
The company told WPRI that it started the trip thinking the permit was on its way.
"We were told that it was OK pending the permit, which was coming soon," Bay Crane spokesperson John Tassoni told the news station. "The truck is so big that it can only go relatively slow in the process, so we started out and then unfortunately the permit never came."
The truck had already crossed four bridges by the time it was stopped, and the report states it would have crossed a total of 37 in the state – some of which are structurally deficient.
State officials told the station they found an alternate route for the truck so it wouldn't have to cross any structurally deficient bridges.