Let's talk about the center lane. (Again.)
I try not to judge driving skills, mostly because I am not a professional driver, but also because I've learned that there are about a bazillion different reasons to change things up when you're rolling. Obeying set-in-stone rules is hard enough sometimes — implied rules, or vaguely ambiguous rules are something only experience can hone.
That being said, I can't deny wishing a pox upon all of the progeny and extended family of a certain group of mega-fleet bandidos, who insisted on remaining in a wall four deep in the middle lane of I-70, for the entire distance having three lanes available between Enon, Ohio, and the split in Columbus, Ohio. The only thing that should be governed on your trucks is the ability to let you in the damn driver's seat, come on. The old man pumping a railroad hand cart in "Oh Brother, Where Art Thou?" follows you saying, "I see many ob-stack-ells in yo' quest fo' the treasure … most of them involve these four doofuses in governed trucks, hoggin up the middle lane."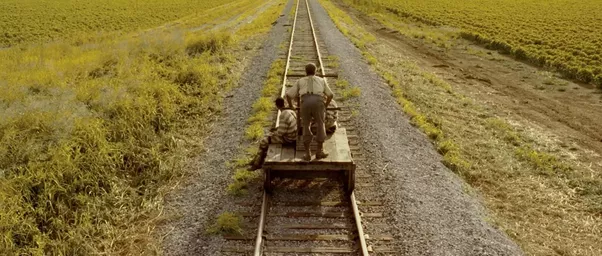 OK, maybe not that, but seriously drivers, you had to know you were a giant wall of, "What the hell is wrong with these truckers?" for a 50-mile stretch. It's embarrassing. Cut it out. Also, get a damn CB.
After I fumed about it for a while, I decided to ask the professionals, to get an idea if my ire was completely misplaced. I always have the benefit of asking George, and I know his comment about the center lane will not be complete until he's got precise specifics about the conditions, flow of traffic, speed limit, wind shear, availability of plant life in case of breakdown and need to sustain life until rescue, temperature, tidal pull and barometric pressure. George doesn't make blanket statements about driving. Ever.
So I posted on our Facebook page, "Finish this thought: I (do/do not) ride the middle lane because ____." I must say that once again, our Facebook crowd didn't disappoint with the answers. I have to take a moment to praise the community we have over there. Our numbers aren't huge, we don't do pictures of dead bodies and wrecks, but we do have a good group of people who have an abundance of real experience in the industry and are willing to share it in a respectful and educational way. And we've been doing it for almost six years now. This isn't some new group who popped up recently – a lot of the people we hear from have traveled with us inter-web-style for thousands of miles, and we've followed a lot of folks on their trucking journey. That's really cool to me, it's something George and I are both very happy and humbled to be a part of.
But back to the center lane thing.
We got answers that ranged from hilarious to frightening as hell. Everything from, "I do it to make super-truckers mad," to "I do, because nobody puts baby in a corner" (my personal favorite), to references to the Smith System and fuel mileage control. The general consensus of people being serious was based on traffic flow, conditions and whether or not the truck is governed, which leads me to believe the center lane debate will remain debatable, unless all traffic conditions are miraculously one day the exact same.
I can't help but wonder what the autonomous trucks would do.