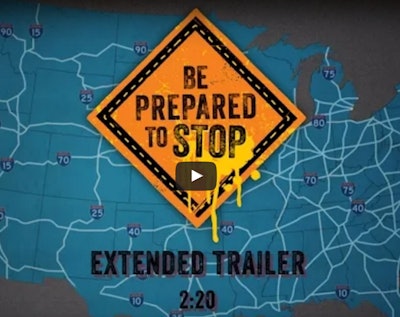 Three showings of an all-new documentary relaying trucking's importance to the motoring public — and the nation's and industry's dependence on a dated and long-neglected highway system — will be held at the Great American Trucking Show this week.
"Be Prepared to Stop" will have a VIP screening on Friday at 3:30 p.m. in Ballroom C. The film will be screened again for all show attendees Saturday at 11 a.m., 12:30 p.m. and 2 p.m. also in Ballroom C. The film's co-directors and producers, Jennifer Clymer and Marijane Miller, will both be on-hand to answer questions and meet attendees.
The film features interviews and profiles of several truckers, including owner-operator Tilden Curl representing the Owner-Operator Independent Drivers Association.
The film is currently available on both iTunes and Amazon. More information is available at www.BePreparedToStop.org.
"My grandfather was a truck driver and I am alarmed about the poor state of our highway system and the lack of understanding about how dependent we are on it," said Jennifer Clymer, co-director and executive producer of the film. "I am hoping this film sheds a light on the problem and is a wake-up call that if action is not taken soon there will be significant consequences."
Co-director and producer Marijane Miller adds, "Our country's check-engine light has been on for years and if something is not done soon we'll be stuck. Replacing a transmission is much higher than maintaining one; we need to fix this engine that keeps our country running before it's too late."