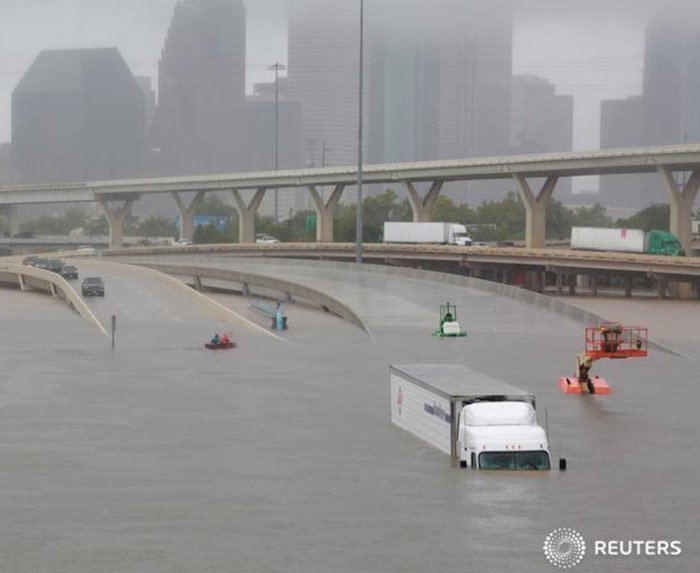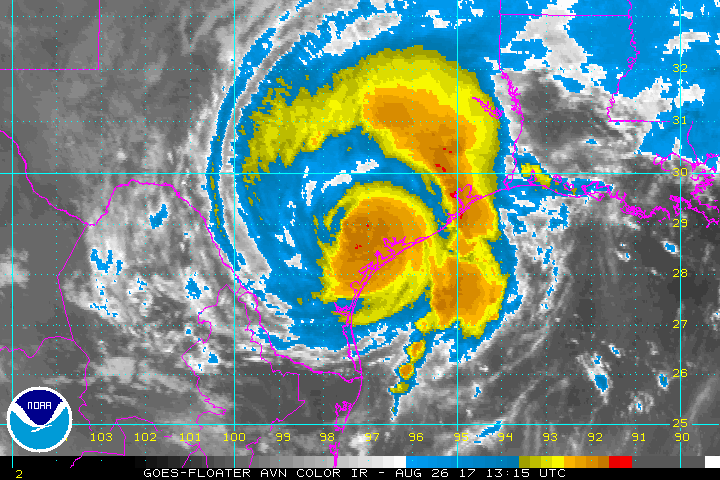 Hurricane Harvey and the damage it is inflicting in southeast Texas will crimp trucking industry capacity, alter the country's freight flow and likely push rates upward in the coming weeks and months, said pricing and supply chain experts Mark Montague and Eileen Hart of load-board and data firm DAT Solutions.
Houston is one of the country's most prominent freight hubs, says Montague, ranking as one of the top inbound and outbound freight hubs, particularly for van and reefer segments. It's also a key transfer point for freight incoming from Mexico and houses a large and active deep water port.
Given the damage wrought by Harvey and its historic rainfall and flooding, the supply chain will need to compensate, and freight flow patterns nationwide will be altered, says Montague. Such changes in freight patterns would alone tighten trucking industry capacity, he adds, but there will also be an influx of inbound relief loads from FEMA and others, which will pull trucks out of circulation and thus tighten capacity further, he says.
As industry capacity tightens, rates will likely climb.
Those FEMA loads are already flowing, notes Landstar-leased owner-operator Bill Ater. The Fort Worth, Texas-based hauler left the Great American Trucking Show, where he'd attended one of Landstar's on-site safety meetings, among other things, and took his blue 2000 Freightliner FLD near directly down to Seguin, Texas, due east of San Antonio.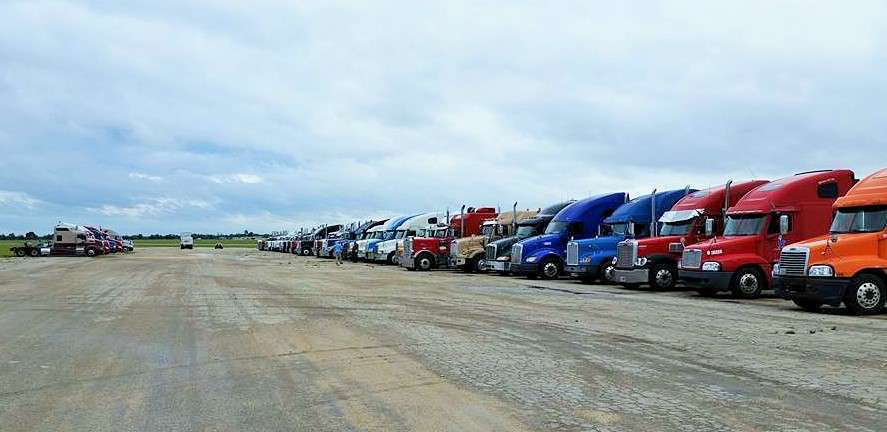 Landstar's Emergency Services wing is working around the clock in support of FEMA, the company says. As of late yesterday afternoon, 150 of the company's owner-operators were already involved moving shuttle truckloads — including bottled water, meals and mobile office kits. Multiple agents and employees were staged in Texas and also at Camp Beauregard in Pineville, La.
Ater got the call from a Landstar agent he's done business with for years on FEMA loads – this is the 14th or 15th hurricane relief effort he's participated in since 2003. The relief effort is likely to "take months," Ater believes, and it's no small commitment to make to move these loads. "The agent has told us that, 'If you're going, you've got to go for 30 days.'" Owner-operators in the relief are paid a day rate for the duration.
Because he's worked many of these, he came prepared with plenty food, water, cash for expenses – "you can buy fuel in a disaster area from a fuel truck," Ater adds, "but there may be no way to pay for it" other than cash.
Other potential supply-chain impacts
"Houston is such an important location" for the supply chain, says DAT's Hart. "That's what's different about this event. It's so critical in terms of its location."
The storm's ultimate impact on key trucking market conditions is yet unknown, as the storm itself has yet to subside, says Montague.
Port freight will likely be rerouted to major southern California ports or ports up the East Coast, he says. Freight from Mexico will be rerouted to other areas of Texas or other border states. And consumables usually shipped on a Houston-bound lane will shift to other cities within the region, such as Oklahoma City, Dallas or Memphis.
"It will in effect tighten the truck supply. And what we know about tightening supply is that it drives up rates," Montague says.
DAT maintains a seven-day rolling average of freight volume data. Volumes as of Monday — just one day of data into the storm's effects — showed inbound and outbound freight volume for Houston already down 10-15 percent, says Montague. He expects that number to hit 75 or 80 percent in the coming days.
Trucking research firm FTR predicts similar industry-wide effects and increases in rates. FTR says an obvious immediate disruption to industry capacity is that of trucks waiting for the storm to pass to resume operation. Other effects to capacity include the stream of relief loads and construction supplies, the extra shipments and reduced productivity due to freight shifts and greater congestion at loading docks caused by the supply chain disruptions.
"Look for spot prices to jump over the next several weeks with very strong effects in Texas and the South Central region," says Noël Perry, an economist at FTR. "Spot pricing was already up strong, in double-digit territory. Market participants could easily add 5 percentage points to those numbers."
FTR noted in a report released Monday that rates gained 7 percentage points on an annualized basis in the five months after Hurricane Katrina in 2005. Likewise, spot market rates jumped 22 percent in the weeks following 2014's massive snowstorm.
When he got the call from the agent relaying FEMA plans and need for power-only owner-operators, owner-operator Ater left his step deck trailer at home and called "half a dozen of my friends" he's met over the years with Landstar working hurricane relief.
"Some guys don't like to share," he adds. "I'm not one of those kinds of guys." Ultimately, you "don't want to have some screw-up working alongside you" as a detriment to your company's brand. "You're  going to be on a military base, and in the general public, dealing with people who are hurting big-time."
Occasionally, it can be as much a ministry as paid hauling, given the compassion Ater feels for and delivers to those affected by the storm, he says.