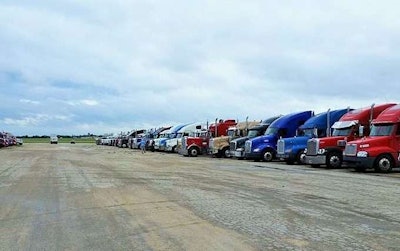 Landstar-leased owner-operator Bill Ater, based in Fort Worth, Texas, had his "feet in the starting blocks, hands on the floor" and was "waiting on the starting shot" when I talked to him Tuesday, August 29, staged in South Texas for relief shuttles associated with Hurricane Harvey. "Welcome to my world when I'm working FEMA," he said.
Ater's worked 14 or 15 hurricane relief efforts over as many years with Landstar, he says, all of which offer a chance he says he appreciates as much or more for the human connections than the income opportunity, in the end.
Run through what he's doing this week and more from his history hauling FEMA loads with Landstar's Emergency Services division in the podcast in players up top and below. Ater typically hauls a step deck. He got the call to participate in this recent relief effort from an agent he's worked with in the past. It came in after Hurricane Harvey landfall this past weekend, when Ater was in attendance at the Great American Trucking Show. When he got the call, he made a call himself to his old running friend, an owner-operator based near Shreveport, La., whom he met on his first hurricane relief effort around Norfolk, Va., back in 2003. Then he dropped his trailer at the house, loaded up with supplies of water and food and made his way South.
Take a listen …