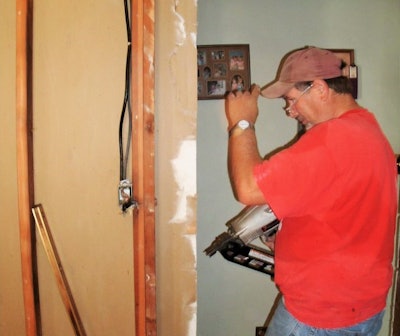 I traveled to New Bern, North Carolina, recently to answer the call for volunteers to assist in disaster relief for those who suffered the battering wrath of Hurricane Florence in September of this year. It wasn't the first mission trip to a storm-ravaged community for me. In fact, being a trucker had a big part in my first such mission trip in 2006 during the long recovery after Hurricane Katrina ravaged the Gulf Coast in '05. Our church paid for the fuel for me to transport a load of food and supplies from the large food bank in our area. After delivering the load and spending a week helping to restore a couple homes of the hurricane survivors, I was hooked.
Since then, being an owner-operator has been a blessing, as I've been able to turn off the truck for at least a week a year to go and serve people in need after a natural disaster.
Being involved in this type of mission work literally has changed my life. I confess and am embarrassed to say that, years ago when I went to help in Biloxi, Mississippi, after Katrina, I thought pretty highly of myself for going. Even after the leadership walked us through an orientation about serving the victims of these natural disasters, describing the need to develop a servant's heart, it took time and experience to fully understand and embrace what helping with a servant's heart really means.
Lessons learned when I've volunteered have helped me live life more humbly, even adjust the way I conduct business. It was only when I stopped and took the time to sit and listen to people's stories that I realized they needed much more than some new shingles and drywall. So many needed a willing ear in which to pour their feelings of tragedy and loss.
I now know I don't have to go on a mission trip to find such people. I keep my antennae out in my daily work for dock workers, truck-stop staff and other truckers who are suffering and just need a little empathy and a listening ear.
Having a servant's heart also means I need to constantly set judgement aside. The organizations I have worked with have to pick and choose just whom their workers will help. Though I'm not involved in those decisions, I have found it easy to second-guess them.
There have been times when the crew felt that the family was not grateful enough, or judged them for not pitching in and helping after they got home from a day of work. I have worked on both very nice homes and ones that were on the verge of not being worth the work of fixing them up. There can be judgement on both sides of that coin. There was a lot of judgement going around after Katrina about living on the coast and not having flood insurance — until we found out that you can't even buy flood insurance unless you are in a recognized flood plain. Many homes we worked on were well outside it. Yet the huge storm surge swamped them.
There have been times when my crew has arrived at a home only to not be allowed in. Your instinct is to say, "What do you mean, we can't come in? You signed up. We're here to help." But once the family explained their reasons, we understood, did what we could outside the house, prayed with them, and moved on to the next project, sad but understanding that the family needed a little more time to make arrangements to move elsewhere while their home was being stripped out.
In my early years of mission work I mostly traveled on trips with groups from my church. Since then, I have started working with a group called Eight Days of Hope. Working with Eight Days means I work with different people on every trip I take. Some of these people have become lifelong friends, another benefit of taking time away from the truck to reach out to those in need. Sometimes as drivers, we become isolated. Serving in this way has helped me cope with those feelings on the road. There's no feeling in the world like someone you have helped holding your hand while they express how much hope they themselves feel now. It confirms there's good in the world — strangers took time out of their lives to come help them rebuild theirs.
Hurricane Michael struck the Florida Coast the week I was in North Carolina and I am headed to the Panama City area to volunteer this week for a few days. I am taking the truck and have found if you call ahead you can find they are often happy to give you a space to park while you are there working. It also gives you a space to sleep, which frees up sleeping space for other volunteers.
Any one of my fellow owner-operators or drivers can volunteer for a few days, and I want to encourage you to investigate and seriously consider these life-changing opportunities. We are much more than just truck drivers, and it is such a blessing to act on that by freely giving back to the whole of society through such volunteer work.