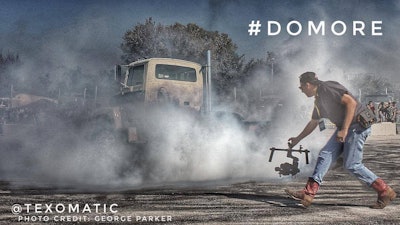 They talked when he announced he was walking away from the cab of a truck after more than 20 years.
"He'll be back in a truck in two weeks."
"He's a good guy, I love him, but he's crazy as hell. A video business? Ha."
"I hope his wife don't kill him for it."
Fast-forward a little more than a year later and ol' Tex Crowley is definitely not dead (shout out to the beautiful and patient wife) or driving a truck again. He's still crazy, but that's why he's survived the first year in a brand-new, self-started video business. Sheer determination, coupled with great work and a great sense of humor, have propelled Tex into a well-known name in the industry.
His uniquely personal style of video production was solidified with the "Life of a Trucker" series, produced while he was still trucking for a living.
When he made the decision to hang up the keys and pick up the camera full-time, he immersed himself in learning all he could about his new venture — he invested in good tools, and he kept at it until he was able to perfect more than the personal-interest video. His work has spilled over into the marketing, training and paid productions trucking companies want, and need.
I don't know about y'all, but we're super-happy to watch our friends succeed. I was the one who said, "I hope his wife don't kill him for it," and I'm really glad she didn't.
This past Sunday, Tex embarked on a cross-country, loop-dee-loop route from Joplin, Mo., on across to Georgia, where he's attending the NACV show in Atlanta this week. He's letting fortune guide the trip home, like a video pirate in search of treasure, and intends to roll home through the Southern end of the map. I've had a ball following the progress on the Texomatic Facebook page — you can too, if you're so inclined.
Fair winds, friend. We're proud of you, and thank you for promoting a positive image of the industry.