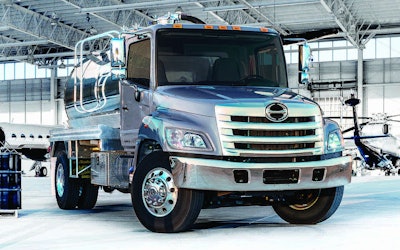 A Class 8 Hino truck?
Yes, that and a new Class 7 truck will be produced starting in 2019 at a new assembly plant that the company is building in Mineral Wells, West Virginia, close to its current plant which recently celebrated a 10-year anniversary.
Hino Motors Manufacturing U.S.A. President Takashi Ono made the announcement Wednesday at a press conference where local government officials and residents applauded the truck maker's $100 million plant investment which is expected to add 250 jobs.
"In addition to producing our current winning line-up of trucks, we will start the production of new Class 7 and Class 8 trucks in 2019," Ono says.
Those new trucks, which will be powered by Hino's 300-360 h.p. A09, 9-liter engine, will debut at the NTEA Work Truck Show next year.
Hino's new plant will be housed in the former Cold Water Creek distribution center. Besides truck production, the plant will also house cab assembly, an operation currently conducted in Japan.
As part of Hino's growth plan, the company broke ground last month on a new state of the art corporate office in Novi, Michigan. Hino is consolidating all operations in its new corporate headquarters, including sales, marketing, service, engineering, purchasing and manufacturing. Hino's Insight Diagnostic Center, which monitors vehicle performance and uptime for all Hino trucks equipped with Insight, will also operate out of the Novi headquarters.
"These are truly exciting times for Hino in the U.S. Our growth and customer acceptance in the Class 4-7 market are enabling us to introduce wider variety of products," said Yoshinori Noguchi, CEO of Hino North America.