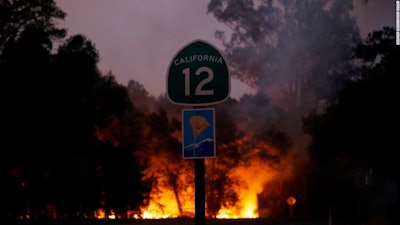 #CaliforniaWildfires update (Wednesday):
17 people are dead
200+ people are missing
17 wildfires burning
122,000 acres currently burning pic.twitter.com/POpV6zMJGu

— Lisa Remillard (@LisaRemillard) October 11, 2017
California Gov. Jerry Brown has declared a State of Emergency for several counties in the state because of multiple fires that have claimed lives, damaged infrastructure and prompted evacuations.
Additionally, President Donald Trump on Tuesday declared a major disaster for the state, which orders federal aid to supplement state and local recovery efforts in the affected areas.
Brown's emergency declaration, which covers Butte, Lake, Mendocino, Napa, Nevada, Orange, Sonoma and Yuba counties, triggers hours-of-service waivers for truckers who provide aid in recovery efforts, including debris removal and bringing supplies to the area.
According to a CNN report, at least 17 people have been killed in more than a dozen wildfires in the state. The fires mostly started over the weekend due to high winds and dry conditions.
Due to the fires, several highways in Napa and Sonoma counties have been closed, including portions of California Highway 128, CA-29, CA-12, and CA-121. According to the California Department of Transportation, there is no timetable on reopening the highways.
Dramatic footage shows a @sonomasheriff deputy driving through an advancing wildfire in Northern California https://t.co/vAqE0hVFCQ pic.twitter.com/t6dSvFialN

— CNN (@CNN) October 11, 2017
More evacuations were ordered on Tuesday evening as wildfires raged across California, killing at least 17 people https://t.co/AnVAFbpu03 pic.twitter.com/a7nVp3kB1F

— CNN (@CNN) October 11, 2017