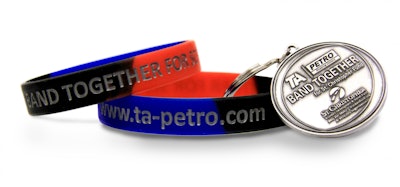 TravelCenters of America announced earlier this month its annual campaign to raise money for the St. Christopher Truckers Relief Fund raised more than $240,000 this year.
The annual "Band Together for SCF" campaign, along with various raffles and other events, raised a total of $241,310.58 that was donated to SCF. Since 2010, TA-Petro has raised more than $2.2 million for the fund.
The Band Together campaign ran during August at TA and Petro locations nationwide, which allowed drivers to make $1 and $5 donations for wristbands for drivers to wear to show their support for the campaign.