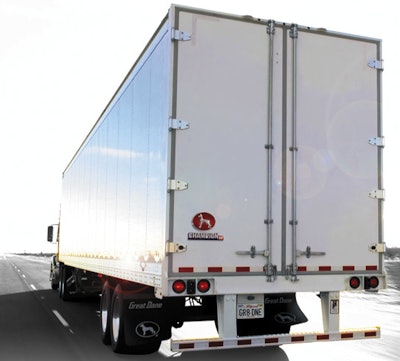 A federal appeals court on Friday paused implementing portions of tightened greenhouse gas and fuel economy standards that were set to take effect in January for trailers.
The Truck Trailer Manufacturers Association (TTMA) last month requested that the U.S. Federal Court of Appeals in D.C. suspend planned enforcement of EPA Greenhouse Gas Phase 2 (GHG2) with regard to trailers, citing the EPA's prior agreement that further rule making was needed.
Friday, that stay was granted by a three-judge panel.
Union of Concerned Scientists (UCS) panned the decision. Michelle Robinson, director of the Clean Vehicles Program for the USC, says GHG2 was set to reduce oil consumption in the U.S. by more than a million barrels every two days and cut 1.1 billion metric tons of pollution over the lifetime of the trucks covered by the rule.
"Making trailers more efficient delivered at least 10 percent of these benefits," she added through a statement issued by the organization. "Now, the court has sided with trailer manufacturers who don't want to comply with the rule, and the Trump administration has already signaled its intent to let them off the hook completely by revising the regulations."
In April, TTMA requested the trailer initiative be paused, and questioned the EPA's authority to regulate trailers under the Clean Air Act sine the act only covers "self-propelled vehicles."
Friday's decision to grant TTMA's request for a stay doesn't permanently scrap Phase 2 with regard to trailer efficiency. The EPA says it plans to reevaluate its trailer provisions through public comment and rule-making, which is likely to carry over into next year.
The EPA has in the works a rulemaking to repeal the glider kit-focused portion of the Phase 2 emissions regulations.