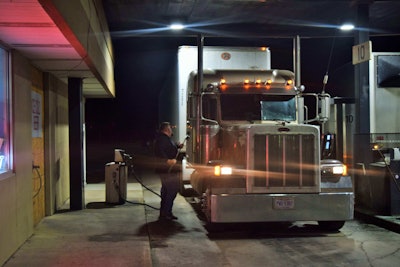 The 20-cent diesel fuel excise tax increase in California that went into effect Wednesday, Nov. 1, led to a 6.3-cent jump in the average price of fuel across the U.S., according to the Department of Energy's weekly report.
The DOE reports fuel prices in California far exceeded the 20-cent tax hike, increasing by 35.6 cents during the week. California's dramatic increase, tied in with sizeable increases in other regions, brought prices to $2.882 per gallon on average in the U.S.
Outside California, the most significant increase was seen in the West Coast less California region, where prices climbed 5.5 cents. The Midwest region saw a 5.1-cent increase during the week.
After the increases, California's average price for a gallon of diesel is up to $3.541. The West Coast less California region's average price is $3.075 per gallon.
The cheapest diesel can be found in the Gulf Coast region at $2.668 per gallon, followed by the Lower Atlantic region at $2.764 per gallon.
Prices in other regions, according to the DOE, are:
New England – $2.812
Central Atlantic – $2.975
Midwest – $2.861
Rocky Mountain – $2.965
ProMiles' numbers during the week saw diesel prices increase by 5.3 cents to $2.847 per gallon nationwide, thanks in large part to a 32.9-cent increase in California as a result of the fuel tax increase.
The average diesel prices in the state did not reflect the tax increase until Friday, Nov. 3, according to ProMiles' numbers, which show slight increases Wednesday and Thursday, and a 25-cent jump on Friday.
According to ProMiles' Fuel Surcharge Index, the most expensive diesel can be found in California at $3.525 per gallon, and the cheapest can be found in the Gulf Coast region at $2.663 per gallon.