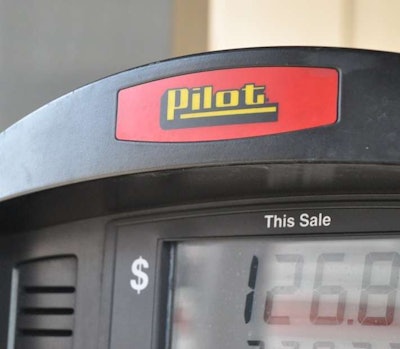 Some of Pilot Flying J's former top executives have gone to trial in Chattanooga, Tennessee, where a jury will weigh the criminal charges brought against them in the widespread fuel rebate fraud scheme uncovered in 2013.
Four Pilot Flying J employees, including former President Mark Hazelwood and sales chief Scott Wombold, will be tried on counts of fraud and conspiracy. Prosecutors claim they bilked trucking companies out of millions of dollars in diesel fuel rebates over nearly 10 years. Others facing trial include Heather Jones and Karen Mann.
Jury selection in the case began Nov. 6. The trial is expected to play out over the coming weeks.
The company settled criminal and civil cases against it in recent years. In 2014, the company agreed to pay the Justice Department more than $90 million to end the probe into the company's scheme. The same year, Pilot announced an $85 million settlement with 5,500 trucking companies who'd been victimized.
However, prosecutors were still allowed to charge and try individuals accused of carrying out the scheme.
Pilot Flying J owner Jimmy Haslam has maintained he had no knowledge of it. When Pilot Flying J settled with the Department of Justice in 2014, the company said the plan was perpetrated by a rogue group within the company without the consent of ownership.
Agents with the Internal Revenue Service and the FBI raided the company's Knoxville, Tennessee, headquarters in mid-April 2013 following a years-long investigation. An undercover mole recorded meetings in which the sales department and management, including Hazelwood, Wombold and others, discussed the scam and instructed the company's sales team on how to execute it.
More than 10 Pilot employees have entered plea deals in the case, including most recently John Freeman, former vice president of sales and a central figure in the case. Freeman could be heard in recordings telling his sales team to "(expletive) them early and (expletive) them often," referring to the diesel customers.
The alleged scheme was often too complicated for carriers to uncover. Carriers would ink contracts for discounts off pump prices. Pilot was responsible for mailing carriers checks for the difference between what they paid and the prices stipulated in the contract.
Authorities allege the company fudged the numbers before cutting the rebate checks, either by changing the pump price or the amount of diesel purchased, resulting in the company shorting carriers what they were owed, per their contracts.
One carrier, according to court documents, was being shorted $100,000 a month. In sum, authorities claim the company shorted carriers tens of millions of dollars over a roughly eight-year period.
The intent was to boost diesel fuel profits and commissions for salespeople, prosecutors claim.
Editor's note: This story originally said that seven former Pilot Flying J employees were headed to trial. In fact, only four are, due to recent plea deals entered by the other three former employees.