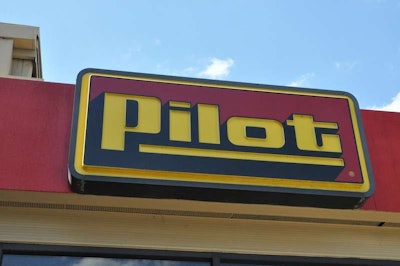 Pilot Flying J has entered into an agreement with the U.S. Justice Department to resolve the criminal investigation into the company's fraudulent rebate withholding scheme, agreeing to pay a $92 million fine and full restitution to companies victimized in the scam.
The $92 million penalty is in addition to the $85 million civil settlement the company agreed to in November, in which the company signed off to pay 5,500 trucking companies the money it withheld from them in fuel rebates along with 6 percent interest, attorney's fees and court costs.
Pilot's scheme came to light in April 2013, after its Knoxville, Tenn., headquarters were raided by agents from the FBI and IRS. A federal affidavit was released days after the raid detailing the accusations against the company, saying it had withheld millions of dollars from trucking company customers in a nearly decade-long period.
Pilot said the settlement also prevents the company from being prosecuted, but the Justice Department says the settlement does not prevent the prosecution of individuals.
"We, as a company, look forward to putting this whole unfortunate episode behind us, continuing our efforts to rectify the damage done, regaining our customers' trust, and getting on with our business," said CEO Jimmy Haslam. "We've been committed from the beginning of this to doing the right thing, and that remains our commitment."
The Justice Department says Pilot "confirmed" its fraudulent scheme "was prevalent within its direct sales group and carried out with the knowledge and participation of employees responsible for the operation and oversight of" the sales division.
The truck stop chain and fuel provider also confirmed to investigators the two key methods it used to defraud customers: By reducing the amount it paid to carriers in monthly rebate checks or by reducing the off-invoice discounts of targeted customers.
The affidavit released in April 2013 accused the company of targeting certain customers it deemed too unsophisticated to discover the scheme.
Pilot says its agreement is "neither an indictment or finding of guilt," according to a press release, and its agreement explicitly states the company will not be prosecuted, it says.
Per the agreement, Pilot must also give regular reports to the Justice Department about its internal compliance program and the measures it's taking to prevent the scheme from reoccurring.
So far, 10 Pilot employees have pleaded guilty to various fraud and conspiracy charges in the case.
Seven carriers opted out of Pilot's civil settlement to sue the company separately, and those lawsuits are still ongoing.
Haslam has maintained he knew nothing about the scam and has denied involvement in it.
Click here to see all of Overdrive's coverage of the Pilot Flying J case.