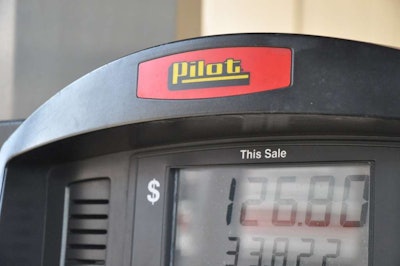 Mark Hazelwood, the former president who helmed truck stop giant Pilot Flying J when the company's sales staff allegedly defrauded trucking companies out of millions of dollars in owed fuel rebate checks, has been found guilty of fraud and conspiracy charges related to the scheme.
Heather Jones, an assistant of Hazelwood's, was also found guilty of fraud and conspiracy charges. A jury in Chattanooga, Tennessee, issued its verdict Thursday afternoon. Karen Mann and Scott Wombold, who also faced criminal charges relating to the scheme, were found not guilty. More than 10 other Pilot Flying J staffers have entered plea deals with prosecutors. Sentencing for Hazelwood and Jones has been set for June 27, according to court records.
The ruling against Hazelwood and Jones comes just shy of five years after agents from the FBI and IRS raided the company's Knoxville, Tennessee, headquarters after an investigation into the company's practices uncovered the fuel rebate scheme, which is said to have lasted nearly a decade.
Pilot reached a civil settlement in 2014, agreeing to pay $85 million to more than 5,500 trucking companies who had been shorted owed rebate checks. The company also agreed to pay $92 million in fines to the Department of Justice to settle the criminal case against it. However, authorities could still prosecute individuals.
Pilot would enter into contracts with trucking companies who promised to buy a certain amount of fuel from Pilot at a rate cheaper than at-pump prices. It was then up to Pilot to determine how much fuel the carrier purchased and how much customers were owed for fuel purchases made at the pump. However, Pilot staffers would fudge the amount of fuel purchased and the prices as a way to lower the amounts owed back to diesel buyers. According to court documents, Pilot Flying J sales staffers were directed by their managers to do so.
Pilot discontinued the use of this sales system after it was uncovered.
Pilot Flying J owner Jimmy Haslam has faced no charges in the case and has said he had no knowledge of the practices of the company's sales team.
In a statement, the company says it has instituted changes to ensure the practice won't be repeated.
"Nearly five years ago upon learning of the improper transactions, we made whole every customer negatively affected, entered into a Criminal Enforcement Agreement with the government, cooperated fully with the government's investigation, and made policy, procedure and staff changes to make sure nothing like this ever happens again," the company says.