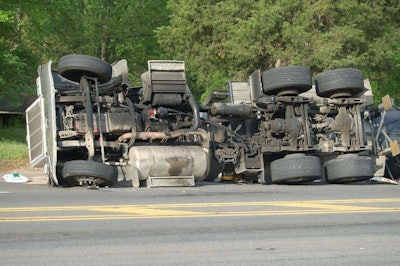 The number of people killed in crashes involving medium- and heavy-duty trucks in 2016 increased by 57 over the previous year, according to data released last week by the National Transportation Safety Board.
In total, NTSB determined highway deaths increased across the U.S. by 1,976 year-over-year. There were 722 fatalities resulting from crashes involving medium- and heavy-duty trucks in 2016 compared to 665 in 2015.
"Unfortunately, we continue to see increases in transportation fatalities," said NTSB Chairman Robert Sumwalt. "We can do more, we must do more, to eliminate the completely preventable accidents that claim so many lives each year. Implementation of the 315 open safety recommendations associated with the NTSB's Most Wanted List of Transportation Safety Improvements has the greatest potential to reverse this alarming trend."
The highest increase in fatalities was seen with passenger cars, which increased from 12,761 fatalities in 2015 to 13,412 fatalities in 2016.
In addition to highway fatalities, which accounted for 95 percent of all transportation deaths in 2016, increases were also seen in the railroad and marine sectors. Aviation fatalities saw a slight decrease year-over-year.