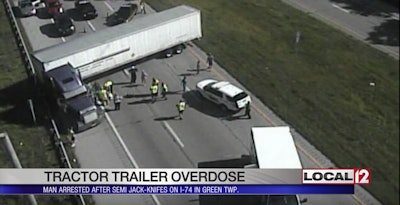 Kentucky-licensed trucker Scotty R. Kinmon has been effectively shut down by the Federal Motor Carrier Safety Administration after overdosing on a Schedule I substance and crashing his truck.
According to FMCSA, Kinmon was driving west on I-74 in Ohio on Aug. 18 when his truck slowed down to a stop and began rolling backwards. The truck rolled into adjacent travel lanes, jackknifed and hit a guardrail before coming to a stop with the trailer positioned across the westbound travel lanes.
Nearby motorists found Kinmon unresponsive in his cab, and emergency personnel treated him for an overdose of a Schedule I controlled substance before transporting him to the hospital. According to news station WKRC in Cincinnati, Kinmon had overdosed on heroin.
Three days prior, on Aug. 15, Kinmon was stopped by police and cited for impaired driving. He failed to appear before court and an arrest warrant was issued.
Additionally, in late July, police officers in Cincinnati found Kinmon slumped over in the cab of his truck while responding to an emergency call, which was also determined as an overdose of a Schedule I controlled substance.